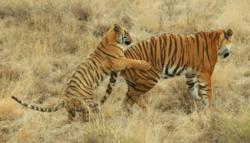 If Ohio enacts a ban on ownership like Hanna and the HSUS want, future generations of Buckeyes won't have the opportunity that allowed Hanna to make his great contributions to wildlife conservation.
Washington, DC (PRWEB) February 13, 2012
Ohio resident Terry Thompson released his menagerie of bears, lions, tigers, monkeys and pumas before dying of a self-inflicted gunshot wound. This tragedy has prompted calls by some for a complete ban on the private ownership of exotics. The Feline Conservation Federation (FCF) favors regulations for safe and humane exotic animal husbandry that allow present and future owners to be a part of captive conservation. Senator Troy Balderson, R-Zanesville, is now considering a plan that phases in a ban.
FCF executive director Lynn Culver believes the hysteria created by the unique incident is fueled by animal rights organizations, such as the Humane Society of the United States (HSUS). Culver emphasizes many of the felines targeted by HSUS, and listed in Balderson's draft bill, are wildcats no larger and no more dangerous than domestic dogs and cats, and should not be prohibited.
Recently, former Columbus Zoo director Jack Hanna, advocating for a total ban on private ownership of most wildlife species, asked the Ohio Newspaper trade group, "What's it going to take, everyone, to pass a bill? Someone else getting killed?" The mayhem in Zanesville caused a tremendous loss of animal life, but no human loss, other than Thompson, who took his own life. Culver says, "The only member of the public ever killed by an escaped tiger was at the American Zoo Association (AZA) accredited, San Francisco Zoo."
Culver is referring to the escape of Tatiana, a Siberian tiger that killed 17-year-old Carlos Sousa, and seriously injured two other zoo visitors. The following day, Hanna tried to calm the nation's growing fear of wild animal exhibits, saying, "It's much safer going to a zoo than getting in your car and going down the driveway."
The death of Sousa at the San Francisco Zoo led animal rights activists to demand city council members convert their zoo into a strict "no breeding" wildlife sanctuary, but the idea was rejected. Culver says, "Hopefully Ohio will also reject this same animal rights agenda, and instead, develop reasonable regulations that permit responsible people to have exotic animals."
Senator Balderson's draft bill would exempt some zoos from animal registration and public safety requirements. Culver is concerned because zoos experience more animal escapes and more human injuries and deaths, than private owners.
Following the unprecedented Ohio disaster, Governor Kasich set up a hotline for citizens to report dangerous animals, and ordered wildlife officers and sheriffs departments to ferret out wild animals in their districts. FCF obtained the Ohio inventory, which revealed most wild felines live in federally inspected facilities. The report documented 55 big cats (lion, tiger, puma, leopard) owned by 14 people who, like Terry Thompson, were not regulated or inspected. Most individuals own just a single feline, but one person holds 23 big cats. The bobcat, a native species already regulated by the Ohio Department of Natural Resources (ODNR), is the most common wild feline in Ohio, with 28 people owning 47 bobcats. Bobcats average twenty pounds and do not present a danger of causing human fatality.
Culver stresses the importance of protecting the private sector gene pools. She explains AZA accredited zoos are only allowed to keep certain species of animals by the accrediting association. Animals such as the African leopard, and Bengal tigers, which were shot at the Zanesville incident, are rarely, if ever found in AZA zoos today. It is up to private facilities to conserve them so future generations have opportunities to appreciate these magnificent animals.
Culver points out that renowned wildlife expert Jack Hanna began his career as a private owner of exotics, including lions and other big cats. "If Ohio enacts a ban on ownership like Hanna and the HSUS want, future generations of Buckeyes won't have the opportunity that allowed Hanna to make his great contributions to wildlife conservation."
FCF supports exotic animal regulations and opposes banning captive wildlife husbandry. The FCF is a non-profit association of feline owners, zoos, educational exhibitors, breeding centers and feline sanctuaries. FCF teaches basic feline husbandry and wildlife conservation educator courses through out the country. Culver says, "Responsible regulations have been developed in other states, such a neighboring Indiana, and by the Federal USDA Animal Welfare Act. We sincerely hope Ohio does the same, and does not take from its citizens the freedom to contribute to wildlife conservation. Close relationships with wildlife leads to a better understanding and appreciation of our planet's wondrous animals."
###