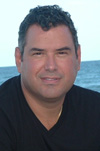 I teach people how to build a pipeline to the world of angels, sharing experiences, doubts and questions, and, most importantly, remembering that we are never alone. We are always surrounded by these beings of infinite light.
Miami, FL (PRWEB) March 13, 2012
The Hearts Center spiritual community will be gathering spiritual healers and speakers from across the U.S. in Miami the weekend of March 23-25 for a spiritual conference: "Beyond Awakening: Love, Heal and Thrive: An Experience of Unity and Light on the Path." The conference begins at 2:00 p.m. Friday the 23rd at the Mariott Dadeland Hotel, 9090 S. Dadeland Boulevard, Miami.
The conference will have key teachings and chakra blessings from ascended masters through David Christopher Lewis, spiritual director of the Hearts Center and messenger for the Great White Brotherhood. Besides Felipe, other locally and nationally known and gifted spiritual healers, shamans, clairvoyants, musicians, and authors will be presenting. These include: Donna Ferri for Mother Mary, Jed Shlackman on the singing bowls, Miami's Theraveda monks chanting, Junia Gail Imel on a 2012 Titicaca pilgrimage, the Magnified Healing group sacred healing session, and Wayne Purdin on the Wonderful Wisdom of Oz.
Felipe Alfonso is an Angelologist and considered an authority in the field of angel therapy. He has studied the world of the Excelsior Angels for the past 16 years. A frequent guest and regularly invited panelist on Miami radio and television for many years, his consultations, lectures and seminars on angels are well known.
A Cuban-American, Felipe also has a deep love for his Venezuelan roots. From an early age Felipe experienced paranormal phenomena. His life view profoundly shifted at age 21 with his father's passing. Finding professional support in a parapsychologist, Dr. Mireya Guera, he was awakened to fully live in a world of angels and high-frequency beings and to understand their powers. He was guided to a rigorous study of metaphysics, the writings of Conny Mendez, to philosophy and bio-energetics, and to many healing therapies.
His years of meditation and communication with angels and beautiful masters in higher dimensions led him to share his knowledge and experience in seminars and consultations. Felipe's family encouraged him to serve individuals with HIV virus and cancers. His therapies stimulate strong self-esteem and spiritual growth. Felipe says he teaches "how to build a pipeline to the world of angels, sharing experiences, doubts and questions, and, most importantly, remembering that we are never alone. We are always surrounded by these beings of infinite light."
Felipe will give a presentation at 2:30 Saturday afternoon on "Sharing the Wisdom of Experience on Ways Angels Work with Us" with a discussion to understand what angels can do to improve our lives.
Later in the conference, on Sunday afternoon, there will be an entertaining interactive session with author and National Alternative Religions examiner Wayne Purdin on "The Wonderful Wisdom of Oz" that will examine L. Frank Baum's popular folktale in the light of ascended master teachings. It will show conferees how they can, like Dorothy in the Wizard of Oz, transform their thoughts and feelings through purifying and balancing their heart, will, and mind with inner child work, ho'oponopono, the violet flame and other spiritual techniques, so that they can ascend and go home.
Finally attendees will unite in a 'Circle of Oneness' for ascended master Melchizedek's blessing and challenge to "Be Initiates!" closing and sealing the weekend event. Everyone will be invited to meetup and continue co-creating their experience of heartstreaming with their angels and the ascended masters in a growing Miami heartfriends community.
The Hearts Center Community connects many heartfriends worldwide whose mission is to realize personal enlightenment and share the ascended masters' love-wisdom teachings throughout the Earth. The community believes that each soul has a personal connection with her Higher Self. With the ascended masters as examples of selfless living, each individual may advance in personal discipleship toward the goal of the ascension through study, devotion, and service to life.
Join the ascended masters and many fellow spiritual seekers in Miami from March 23 through 25 at the Mariott Dadeland Hotel, and go Beyond Awakening to co-create together an experience of unity and light through heartstreaming with each other, the angels and ascended masters, and through meditation, Magnified Healing, healing sound and radiation, song, movement and mantra.