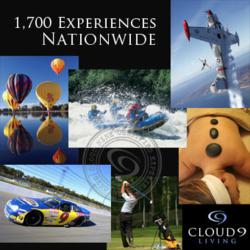 This Christmas, change your gift-giving habits, sway away from the material and gift a thrilling experience.
Boulder, CO (PRWEB) October 19, 2012
Experience gifts from Cloud 9 Living like skydiving, fighter pilot for a day and stock car driving give anyone a chance to be an adrenaline junkie for a day. After the adrenaline-inspiring events of last weekend, adrenaline is definitely on everyone's mind.
When Felix Baumgartner was released from the Red Bull Stratos helium balloon on Oct. 15, no one knew if his record-breaking 24-mile free-fall would be a success. The jump was the culmination of seven years of scientific research, intensive training, and trial runs. His stunning achievement immediately sent shockwaves through the media an inspired people all over the world as the limits of human endeavor were once again pushed to a new limit.
We all feel a need for adventure and excitement, something the advancement of technology has truly suppressed. But, this holiday season Felix's top-of-the-world, dare-devil-for-a-day feeling can be wrapped up. This Christmas, change your gift-giving habits, sway away from the material and gift a thrilling experience.
Experience gifts are relatively unknown in the U.S. but are a perfect present for anyone inspired by Baumgartner's unprecedented feat. Companies like Cloud 9 Living make it possible to give someone special a skydiving experience, or a bungee jump, or even a flying lesson. Simply shop on Cloud 9 Living's eCommerce site in the action and adventure section and give gifts that let the recipient:

Go on a Stratos mission and free fall like Felix with the Tandem Skydiving packages
Make like Maverick and take the controls on a "Fighter Pilot for a Day" mission
Race around the track Jeff Gordon style with the "Drive a Stock Car" experience
Dive, duck and roll like James Bond in a day-long paintball battle
Get a glimpse of what it's like to make it in the Wild West with bucking bull riding lessons
Flip and jump like Travis Pastrona after a lesson in motocross
Take snowboarding and skiing levels to new heights like Shaun Plamer with snowkiting lessons
Chase big waves like Kelly Slater—after a few surf lessons that is!
Studies at Cornell and San Francisco State University have shown that memories last far longer—and are treasured far more—than material goods. As the holiday season approaches the choice between giving a once-in-a-lifetime experience and another trinket from the mall seems like more and more of a no-brainer.
About Cloud 9 Living
Cloud 9 Living is the leading experience gift company in the U.S. Headquartered in Boulder, Colorado, the company features a portfolio of more than 1,700 experiences in 43 regions nationwide. With experience gifts starting under $100, Cloud 9 Living offers something for every taste and every budget. The experience gift certificates come in a custom gift pack, have no expiration dates and include free exchanges. Not to mention a biggest smile guarantee. For more information, visit http://www.cloud9living.com.