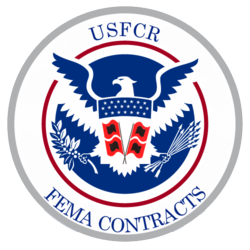 St. Petersburg, FL (PRWEB) September 23, 2011
Due to an unprecedented amount of national & state disasters over the past six years, FEMA has been active in helping citizens across the U.S. recover and rebuild. With FEMA's massive workload, they spend a majority of their annual budget contracting to outside vendors. Over the past five years alone, FEMA has awarded an average of $1 billion annually to outside contractors in an effort to keep up with the growing demand.
With this in mind, the U.S. Department of Homeland Security stresses that many of the registrations are received incorrectly or incompletely filled out, which severely lowers the chance of being awarded a contract.
US Federal Contractor Registration has created a website specializing in only FEMA contracting in an effort to help vendors focus on this lucrative market. With http://www.femacontracts.com, new and existing contractors can find all the information they need to successfully compete for FEMA contracts. Vendors can also enlist US Federal Contractor Registration to complete the sometimes frustrating process of registering with the U.S. Government, setting them up quickly to bid on contracts.
Along with a registration service, femacontracts.com also provides a beginner's contractor packet with inside information on winning FEMA contracts as well as a regularly updated news section aimed at keeping vendors informed on all breaking FEMA news.
With all the important contracting information laid out on an easy to digest website, vendors can easily register and begin doing business with the Federal Government.
US Federal Contractor Registration is the official third-party registration firm. USFCR offer businesses the option to work with a case manager to complete and maintain their CCR registration and ORCA filing for one year, and then market their business to the Federal Government. Contact US Federal Contractor Registration today at https://www.uscontractorregistration.com or #877-252-2700 to begin a registration and receive USFCR's "Validated Vendor" seal.
###