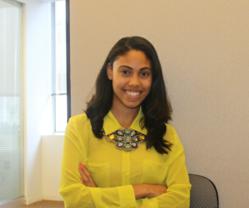 Needless to say, I graduated with 3 job offers when some classmates are still unemployed. That was what sparked me to write my first ebook and launch the site.
Washington, DC (PRWEB) January 03, 2013
Emmelie De La Cruz, a young woman of color and entrepreneur, was interviewed for the My Creative Connection website, where she shared her story on preparing for the real world post-graduation and her career as a marketing professional and entrepreneur. Through her site and company, she is teaching young people and professionals about the power of your personal brand.
In the interview by editor Melissa Kimble, Emmelie shares what inspires her to create and talks about the lack of information when it comes to personal branding. The Branding Muse helps young women and college students learn to take control of their personal brand through real-life lessons Emmelie learned while attending Syracuse University. "I realized very early on that my personal brand on campus propelled me to new heights, and I was able to leverage my credibility and skill sets to gain access to internships and jobs" she said. "By having a personal brand that was consistent on social media and my website, I was able to make myself stand out from my peers."
Emmelie says she was excited to do the interview because she was able to share her candid thoughts and views with an audience that wasn't her own. The 2013 release of the feature is just the beginning of other projects with Melissa Kimble and My Creative Connection. A webinar on branding will be happening later in the month.
To read the entire interview you can visit the My Creative Connection website.
About The Branding Muse
The Branding Muse works to assist college students and young professionals with the development of their personal brands. By creating resources to simplify personal branding, The Branding Muse empowers its community to take control of their online and offline presence. For more information on the Branding Muse, visit thebrandingmuse.com
About My Creative Connection
My Creative Connection was created to unite women of color professionally and creatively. My Creative Connection was designed to share stories and experiences that will motivate others while they are on their journey to grow-professionally, artistically, mentally, and spiritually.