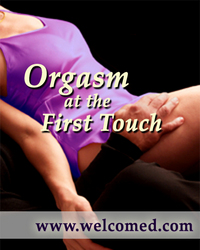 the idea of extended or continuous orgasm lasting several minutes or even an hour
San Francisco, CA (PRWEB) April 15, 2009
Researchers of female orgasm and internationally known sensuality educators, the Welcomed Consensus announce the release of their latest DVD Orgasm at the First Touch - part two of A 3 Minute Orgasm series on April 30, 2009. This unique DVD gives a history of research about female orgasm, presents a new definition of orgasm and shows a detailed demonstration and instruction for creating Deliberate Orgasm.
Lengthened female orgasm is currently a hot topic in the media. A recent New York Times article, The Pleasure Principle, on lengthened female orgasm mentions Deliberate Orgasm. Interest is rising about its effects, biological function, and how women can orgasm more readily.
The commonly held view of orgasm, defined strictly by muscular contractions, has begun to change. In Wikipedia, "the idea of extended or continuous orgasm lasting several minutes or even an hour" is now included in its Orgasm article. Books such as Instant Orgasm: Excitement at First Touch by Drs. Steve and Vera Bodansky, friends and former business partners of the Welcomed Consensus, are another example.
The Deliberate Orgasm videos produced by the Welcomed Consensus are the first and only videos that demonstrate this expanded orgasm. They show practical steps for reliably creating continuous orgasm in a woman's body. The instructors in these educational female orgasm videos call this practice Deliberate Orgasm (DOing).
Orgasm at the First Touch, part 2 of A 3 Minute Orgasm series, to be released on April 30th, approaches the topic in an engaging and straightforward way, making Deliberate Orgasm easy for partners to learn together.
About the Welcomed Consensus:
The Welcomed Consensus is an internationally known center of education for sensuality. Since 1992, they have offered courses, retreats and videos. The courses are on communication, relationships and sensuality with an emphasis on female orgasm. On the Welcomed Consensus web site, information on Deliberate Orgasm is readily available through web pages, audio podcasts and an active discussion board, The Clit Board, which has 14 years of content for any one who would like to learn more.
Title: Orgasm at the First Touch: A 3 Minute Orgasm Part 2
Release Date: April 30, 2009
Cost: 2 DVD set $29.90
Pre-release copy available upon request
# # #