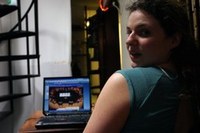 The fresh and informative layout has combined to double our traffic since its formal re-launch in November.
London, UK (PRWEB) December 14, 2007
Recent research into internet usage by women shows an increase in time spent visiting gaming sites, especially those featuring online casino gambling.
In order of popularity by game, the largest number of women play online casino slots games, followed by skill games, bingo, and online casinos. Online poker is still the dominant domain for male gamblers, but it is more likely that three players out of every ten at a poker table could now be women, though many choose not to highlight this fact when playing at an online poker room.
In fact it is this anonymity that attracts many to play online and enjoy the experience. Recent changes in the UK smoking laws appear to have also resulted in an upsurge in home play of Bingo by female players which in turn leads into other more traditional online casino games such as Roulette, Keno and internet variants of Backgammon, Rummy and Mah-jong.
Women are recognised to spend more time online than men and increasingly more of their leisure time is spent online, helped by the lower cost of broadband and greater access. Mobile internet is still in its infancy, although many analysts project its use to dramatically increase with the lower cost of billing for data and future take-up of internet enabled handsets.
Mobile casinos are fast becoming the entertainment channels of choice for moments of enforced inactivity, for instance, commuting and queuing, whether the player plays for fun or money. Although these services can be prone to lost connections when playing, latest technical developments enable the game provider to record a player's progress and ensure no money loss as a result of play being disrupted mid-game.
Given the clear evidence of increased online gaming play by females, it is an open question why advertisers, online gaming review sites and the casinos themselves have been relatively slow to target and cater for this growing market segment.
An exception to this is Oggs.com, an independent online casino reviews website. It's straight-forward objective reviews and newly designed site aims to appeal to all players: male and female, new and experienced. In addition to the quality of its advice, Oggs.com's crisp light blue pages, lack of garish flashing images, and easy navigation creates an oasis for players to learn more and not feel intimidated before trying out some of the better online casinos on offer. When asked if it had worked a spokesperson for the site answered "The fresh and informative layout has combined to double our traffic since its formal re-launch in November."
The female interest in online gambling is not just solely a North American nor UK phenomenon. Many are actively sampling the large range of games on offer for entertainment, and frequenting sites and casinos that offer opportunities for social networking. This is an important feature as players are more likely to remain loyal and recommend friends to those poker rooms, online casinos, online bingo halls and the like, where they can converse and play regularly, a trait more common in women than men.
It will be interesting to follow future developments in this fast growing area. More research is promised.
###