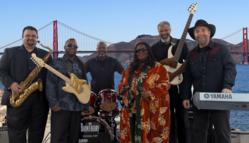 Audiences and reviewers are telling us they love the energy and powerful messages they hear in 'Danger Zone.'
San Francisco, CA (PRWEB) February 22, 2012
It's another great year for the soulful blues woman and fierce force of nature known as Sista Monica Parker. A few months ago, the "Lioness of the Blues," as she is called in Europe, released "Living in the Danger Zone" to rave reviews. She is now up for the 2012 Blues Foundation Female Soul Blues Artist of the Year Award. Fans can support Parker and the blues community by joining the Foundation and voting at the following website: http://bmapreview.blues.org/album/soul-blues-female-artist-of-the-year.
"This is the fifth time I have been nominated for this award, and it is again a tremendous honor," said Parker. "The Blues Music Awards are universally recognized as the highest accolade afforded to musicians and songwriters in Blues music.
On "Danger Zone," Sista Monica croons, testifies and roars about the thrills and pains of loving dangerously. Given its elements of R&B and gospel, this contemporary blues album has reviewers singing praises and live audiences clasping their hearts, clapping their hands, singing along and getting up to dance.
Parker says the Sista Monica Band is on top of its game. The band includes Danny Sandoval on tenor saxophone, Bill Vallaire on guitar, Leon Joyce, Jr. on drums, Artist Joyce on bass and Danny 'B' Beconcini on piano and Hammond B3.
"People resonate with my music 'cause we've all been there," said Parker. "Audiences and reviewers are telling us they love the energy and powerful messages they hear in 'Danger Zone.'"
Sista Monica has fought hard in her 20 years as a performer. Determined to make it on her own, she wouldn't allow anyone to help her with her career. But over the years she realized that she is just like everyone else—and now welcomes and appreciates a hand from friends, fans, promoters and blues organizations.
"I wish I had allowed others to help me advance my career in blues early on because now people think I don't need any help," said Parker. "Although today I listen, take coaching and follow through on the ideas of others, a lot of people believe I am some tower of knowledge on marketing and public relations—but behind the curtain I struggle just like other artists."
Parker's IT/Engineering Recruitment career provides financial support for all of her endeavors. Parker says it has been rough to juggle two careers because it leaves her with very little time for reflection and networking.
"My music has been embraced because of the airplay, not because I placed CDs in people's hands," said Parker. "I wish I had more time to shake hands with people and get involved in more social activities. I am very grateful for the work of the Blues Foundation, which helps artists with everything from health care insurance to access to gaining publicity. They have certainly helped me."
"Living in the Danger Zone" is available on indie label Mo Muscle Records and is distributed by City Hall Records of San Rafael, California. The Danger Zone World Tour recently announced new performances, including:

Le Meridian Jazz Club in Paris, France - March 23–31, 2012
Firehouse Arts Theater in Pleasanton, California - April 14
Sista Monica's own birthday celebration at San Francisco's premier blues restaurant, Biscuits & Blues - April 27
Redwood Mountain Music Faire in Santa Cruz – June 2, 2012
Tour of Southern Italy - July 12 – 22, 2012
Redwood City Mountain Festival – July 28, 2012
Cincinnati Blues Festival in Cincinnati – August 10, 2012
Red Deer Festival, Red Deer, Canada – August 18, 2012
For booking availability, contact Jim Douglas (925) 449-1724 at Prime Time Entertainment. For interviews, call (831) 425-3192. Sista Monica can also be found at sistamonica.com
About Sista Monica Parker
Sista Monica Parker is a blues and soul singer, songwriter and performer who moves audiences with her heartfelt lyrics and soul-touching sounds that percolate from her American roots in R&B and gospel music. A previous winner of the prestigious Monterey Bay Blues Festival's Artist of the Year Award, Sista Monica recorded "Living in the Danger Zone" at the intimate suburban San Francisco music recording studio Live Oak Studio in Berkeley.
Sista Monica's song "Show Me What You're Working With" from her previous album "Can't Keep a Good Woman Down" was selected and choreographed by Ray Leeper for one of the dance routines performed by Melanie Moore, the Season 8 winning dancer of the hit television series "So You Think You Can Dance." The routine can be seen on YouTube at: http://www.youtube.com/watch?v=5lROTaDJJfc.
###