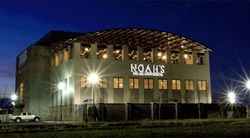 Since we know that women love to connect with other women, we have allowed plenty of time for networking throughout the day, however, the main focus is to give women business owners the tools to grow their businesses and attract capital
Chandler, AZ (Vocus) October 25, 2010
The Chandler Chamber of Commerce announced today that they will be supporting the FEMnominal Women in Business Brunch and Learn this weekend at NOAH's Event Center in Chandler. The annual event, sponsored this year by Arizona Ford Dealers and local women-owned businesses will take place on Saturday, October 30, 2010 from 9:00 am to 2:00 pm.
FEMnominal Women in Business will begin with red carpet photos and feature 3 guest speakers including Maryanne Weiss, the Chairman of Greater Phoenix SCORE and end with a business and shopping expo. The focus of this year's event is on business education. "Since we know that women love to connect with other women, we have allowed plenty of time for networking throughout the day, however, the main focus is to give women business owners the tools to grow their businesses and attract capital," says Lainika Johnson-Colbert, the event Chairperson.
Rota Venners, Director of Business Development & Public Policy at the Chandler Chamber of Commerce said, "As a partner of FEMnominal Women in Business, the Chandler Chamber has an opportunity to celebrate women who operate businesses as true heroes in our community. Entrepreneurial women create jobs and economic opportunity which is at the core of our community."
Tickets for FEMnominal Women in Business are $45 and includes brunch. To register or purchase a vendor table, visit FEMnominal Events or contact event Chairperson, Lainika Johnson-Colbert of Urban Corporate Media at 602-492-8929.
About the Chandler Chamber of Commerce: The Chandler Chamber of Commerce supports business and our community by providing vital programs and services that attract and retain business while embracing our diversity.
###