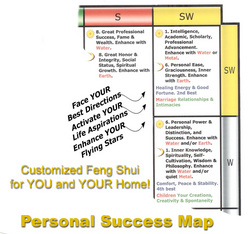 At its way-too-cheap price, Jami Lin's advice is simple to use and will not cost you hundreds of dollars and hours decorating your home for positive results. It's an excellent tool to achieve your Feng Shui goals!
Lanham, MD (Vocus) August 11, 2009
People are making inexpensive renovations to enjoy being at home. With no additional investment, why not improve health, deepen relationships, and expand wealth at the same time?
Feng Shui is modeled after nature and with eight compass directions and thousands of home designs, there are no simple decorating guidelines until now. Because real Feng Shui is not a one-size-fits-all, Jami Lin, a 30-year interior design veteran with more than 20 years of Feng Shui mastery creates customized do-it-yourself, home-enriching solutions.
Personal Success Maps, as the name suggests, include essential and customized information with at-a-glance charts. Years of experience, step-by-step guidance, and sophisticated-web technology are combined to simplify the most effective Feng Shui Interior Design to make them accessible.
Automated on Feng-Shui-Interior-Design.com, Personal Success Maps are specifically calculated with the direction a property faces, occupant's birthday, and move-in date. (For move-in dates between 1984 and 2048, there are more than two-thousand maps. Only one is specific for each home for maximizing life-enhancing results.)
About.com recognizes "Feng-Shui-Interior-Design's, Personal Success Map is a must have" with 4-1/2 (out of 5) stars. "At its way-too-cheap price, Jami Lin's advice is simple to use and will not cost you hundreds of dollars and hours decorating your home for positive results. It's an excellent tool to achieve your Feng Shui goals!"
According to About.com's Feng Shui expert, the "Personal Success Map provides your best directions, worst directions, and the influence of each room. Lin did not stop there, she includes excellent solutions and enhancements for all scenarios."
Jami Lin describes, "Every person has natal talents and shortcomings as does every home. A good singer with clumsy feet can improve both voice and grace. Every room has both favorable and unfavorable aspects that can be enhanced with little or no cost."
Depending on the specific natal Feng Shui energies identified in Personal Success Maps, good areas for bedrooms have good health and loving attributes instead of those with arguing and bickering characteristics. Both conditions are easily improved. Painting a room a specific color will inexpensively deepen a relationship. Moving the bed to another wall is priceless.
Profit-producing home offices have success and wealth attributes instead of loss and misfortune energies. Without spending a penny, it is easy to position the desk to support a favorable direction. Placing a favorite accessory with a professional-specific symbol (lawyer: scale of justice, writer: beautiful pen set) where it is easily seen will nourish greater wealth opportunities too.
Feng Shui is always evolving just like life and nature. Yearly Success Maps recommend where to move a few, select accessories bases upon the influence of the ever-changing seasons. Personal Success Maps provide intuitive solutions. As another example, simply evaluate how the kitchen and dining areas are decorated for improving health.
People selling their house, following the guidance may help with a quick sale too.
Need private help, with Jami Lin's years of experience, she provides decorative consultation for people world-wide by overlaying the same do-it-yourself Personal Success Map on top of their floor plans and looking at their photographs. Jami again uses technology to save money and is eco-friendly too. Skype and email communications are free and paperless.
Feng-Shui-Interior-Design offers a complimentary mini map and lots of helpful tips too.
About us
Jami Lin's (JamiLin.com) is a 30-year veteran of interior design. Her expertise evolved into Feng Shui (http://www.Feng-Shui-Interior-Design.com), international recognition as a master with six best-selling books, an online home-study certification program, and PBS-TV pilot. Color is her trademark and her new, award-winning ColorAlchemy book (ColorAlchemy.com) is heralded as "advanced thinking for infinite possibilities."
Jami's media section provides the press with valuable, tailor-made content using color therapy, Feng Shui, design, and youth-enhancing wellness in: Lifestyle/General Interest, Family/Children, Business Success, Home/Garden, Health: Body, Mind, Energy Medicine, Youth-Enhancing Secrets, and Human Spirit/Awareness.
Jami is available for interviews.
Media contact:
Joy Starr
941-276-8689
http://www.Feng-Shui-Interior-Design.com
###