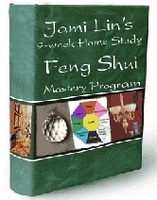 After hearing such good things about Jami Lin, we had a series of phone consultations to plan our new home in Mexico
(Vocus) September 23, 2009
Instead of moving, more people are spending more time at home and renovating their sanctuaries. Businesses executives realize it is more cost effective to refresh existing office than expensive downtime with relocation. Home or office, people are landscaping rejuvenating garden spaces to capture refreshing minutes in nature and to bring-the-outside-in through window vistas.
Revitalizing environment for function and beauty, maximizing life potential at the same time requires consideration for positioning existing furniture, art, and accessories and/or painting the walls - which is part of most renovation projects anyway. Simple and life-enhancing benefits don't cost a penny more!
With the same investment in redesign and remodeling, objectives can easily include simple, do-it-yourself Feng Shui secrets to increase wealth with intentions taking stock of financial future, deepening love and finding knight in shining armor and improving wellness by feeling and looking younger!
Because real Feng Shui is not a one-size-fits-all as it has been popularized, Jami Lin, a 30-year interior design veteran with more than 20 years of Feng Shui mastery creates two customized do-it-yourself, home-enriching solutions: The at-a-glance Personal Success Map and nine-lesson, Home Study Feng Shui Mastery Course.
"Feng Shui is modeled after nature - and nature is perfect. The same way a seed inherently grows to produce new seeds, it is natural to be abundant, strong, and successful," says Lin. "I've developed the easiest and most effective methods to combine Feng Shui and interior design through years of teaching thousands of students and helping design hundreds of homes and offices and made them affordable with web automation."
Personal Success Maps, as the name suggests, include essential and customized information with step-by-step guidance. Maps are custom calculated with the direction a property faces, occupants' birthdays, and move-in date. (For move-in dates between 1984 and 2048, there are more than two-thousand maps. Only one is specific for each home for maximizing life-enhancing results.)
About.com recognizes "Feng-Shui-Interior-Design's, Personal Success Map is a must have" with 4-1/2 (out of 5) stars. "At its modest price, Jami Lin's advice is simple to use and will not cost you hundreds of dollars and hours decorating your home for positive results. It's an excellent tool to achieve your Feng Shui goals!"
Through Jami Lin's Home Study Mastery Course, discover how to convert a bedroom to inspire partnership and commitment in romance. Use color and body positioning to enhance health. Reduce stress by balancing the home's energies. Increase personal wealth by tweaking the office. Methods are the same for office and garden applications and as easy to apply too.
The course has a certification component with the option to share newfound knowledge with others, start a new career, or incorporate Feng Shui to existing services.
About.com, raves, "An outstanding course for everyone to learn the power of Feng Shui and how to apply the principles. Jami Lin has created an excellent nine week email course that is affordable and convenient."
Need personalized assistance? With Jami Lin's years of experience, she provides decorative home and office consultation for people worldwide by analyzing the same Personal Success Map with their floor plans and photographs. Jami again uses technology to save money and is eco-friendly too. Skype and email communications are quick, paperless and most importantly effective.
"After hearing such good things about Jami Lin, we had a series of phone consultations to plan our new home in Mexico," says Lupita Herrera. "Starting with the land on a restricted piece of property, we got a brilliant architectural plan to match our lifestyle, fresh and elegant ideas, special design features, room and furniture to accommodate all five family members, and an overall color scheme. Even though we were thousands of miles apart, we experienced Jami's Feng Shui decorating talents and we love them!"
Feng-Shui-Interior-Design offers complimentary charts, lessons, and hundreds of helpful tips too.
About us:
Jami Lin (JamiLin.com) is a 30-year veteran of interior design. Her expertise evolved into Feng Shui (http://www.feng-shui-interior-design.com/ ), international recognition as a master with six best-selling books, an online home-study certification program, and PBS-TV pilot. Color is her trademark and her new, award-winning ColorAlchemy book (ColorAlchemy.com) is heralded as, "advanced thinking for infinite possibilities."
Jami's media section provides valuable, tailor-made content using color therapy, Feng Shui, design, and youth-enhancing wellness in: Lifestyle/General Interest, Family/Children, Business Success, Home/Garden, Health: Body, Mind, Energy Medicine, Youth-Enhancing Secrets, and Human Spirit/Awareness.
Jami Lin is available for interviews.
Photographs available on request.
###