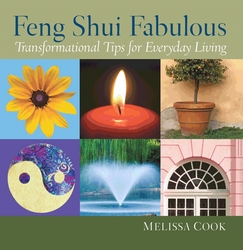 Feng Shui should be as accessible as it is transformative.
New York (Vocus) November 11, 2010
In her new book Feng Shui Fabulous: Transformational Tips for Everyday Living (published by AuthorHouse), Melissa Cook has mastered the adage "Keep it simple" while offering practical techniques that achieve dramatic results. Each page of this vibrantly illustrated guide depicts the powerful relationship readers share with their personal environments, one that can be their guide to manifesting their deepest goals and desires. As a graduate of Parsons School of Design, Cook brings a "designer's eye" to her recommendations.
Written in a graceful, straight-forward style, each vignette reflects Cook's guiding principle, "Feng Shui should be as accessible as it is transformative." She draws from personal observation and actual client stories to demystify the ancient art of Feng Shui and make it relevant to a modern audience. For example, one client attracted a new man in her life by adjusting the sharp corners in her bedroom. And after rearranging their living room, a couple rediscovered the joy of entertaining. A tip can be as simple as "Bring one item that you truly love into each room to act as an energetic focal point" to a thought-provoking query, "What does your front door say about you?"
Advance praise for Feng Shui Fabulous:
I love Melissa's approach to Feng Shui. Ever-practical, inspired, and clear, her book answers the real-life questions we all are faced with as we live, work, and change in our environments.
Terah Kathryn Collins, bestselling author of The Western Guide to Feng Shui and founder of the Western School of Feng Shui
Feng Shui Fabulous is available through authorhouse.com, amazon.com and barnesandnoble.com.
Melissa Cook is the founder of Inner Vision Feng Shui and has helped homeowners, businesses, medical institutions, and designers create balanced and harmonious spaces for nearly a decade. She is a graduate of the Western School of Feng Shui and, as a member of the school's Speakers Bureau, makes presentations on a wide range of subjects. For information about on-site and telephone consultations, workshops, and presentations, go to Inner Vision Feng Shui at innervisionfengshui.com or contact her at mcook(at)innervisionfengshui(dot)com.
AuthorHouse is the leading provider of self- publishing, marketing, and bookselling services for authors around the globe. For more information, visit authorhouse.com.
###