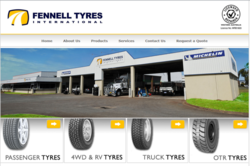 the website is simple to navigate and provides a wealth of information on our products and services
Kewdale, Western Australia (PRWEB) May 25, 2011
Fennell Tyres International, located in Kewdale, Western Australia has announced the release of their new website http://www.fennelltyres.com.au. The website showcases Fennell Tyres International's products and services, including their range of passenger, 4WD, RV, truck and OTR tyres.
The website, developed in conjunction with Blitz Consulting, Morphographics Inc and PerthWeb, features an easy to navigate layout with high resolution photography. "We are very pleased with the design and ease of use of the new website", said Bruce Walker, Managing Director of Fennell Tyres International, "the website is simple to navigate and provides a wealth of information on our products and services."
The new website is designed to educate existing and potential customers on Fennell Tyres International's extensive product range. "Our website will be a great sales tool and allow our customers to research our product range" said Mr Walker.
About Fennell Tyres International
Fennell Tyres International Pty Ltd (FTI), founded in 2005, is a leading supplier of earthmover, truck, 4WD, RV and passenger tyres throughout Western Australia. FTI supplies a diverse range of brands including Michelin, Yokohama, Coba, Toyo and Hankook tyres. The company operates workshop facilities in Kewdale, Western Australia as well as two fully equipped earthmover tyre handler trucks for on-site service. For more information visit http://www.fennelltyres.com.au.
###