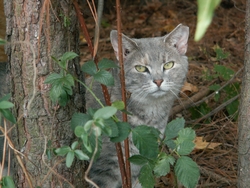 Many Americans don't really know what a 'feral cat' is, but they know they've seen them around, because feral cats exist in every community, from urban to rural
Bethesda (Vocus) September 21, 2009
As the calendar approaches October 16 - National Feral Cat Day - feral cats are increasingly in the news, with cities and towns all over the country looking toward humane programs that take into account the needs of the community and of the cats.
"Many Americans don't really know what a 'feral cat' is, but they know they've seen them around, because feral cats exist in every community, from urban to rural," said Becky Robinson, president of Alley Cat Allies.
"Feral cats are a bit of mystery - because they are wary of humans, they may be hidden out in plain sight and living 'in the shadows.' Feral cats are members of the domestic cat species like pet cats, but they are fearful of humans and can't be adopted. When they are taken to animal shelters, they are almost always killed there," she said.
"Feral cats live healthy, quality lives outdoors, but there are ways make their lives even better, including programs like Trap-Neuter-Return," said Robinson. "National Feral Cat Day is a great opportunity to learn more about feral cats and why Trap-Neuter-Return is best for the cats and the community."
National Feral Cat Day, started by Alley Cat Allies in 2001, is celebrated by thousands of people across the U.S., who participate in fundraisers, adoption events, or spay/neuter drives in order to draw attention to the special needs of stray and feral cats.
For a list of local events or to find out more about National Feral Cat Day, visit http://www.alleycat.org/NFCD .
To schedule a media interview with Alley Cat Allies, email media(at)alleycat(dot)org.
About Alley Cat Allies
Alley Cat Allies is the nation's leading advocate for stray and feral cats. Their web site is http://www.alleycat.org .
###