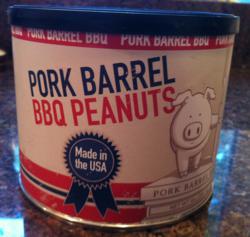 "People love the Pork Barrel BBQ sauces and dry rub on their meats, poultry, and mixed in side dishes, and now they can enjoy it on FERIDIES peanuts." ~Jane Riddick-Fries, co-founder of FERIDIES
Washington, DC (PRWEB) July 08, 2011
Pork Barrel BBQ, the nation's fastest growing BBQ sauce company, and FERIDIES, manufacturers and distributors of the World's Best Peanuts and Other Specialty Foods, today announced a partnership to produce and distribute Pork Barrel BBQ Peanuts.
FERIDIES, a family-owned and operated business based in Courtland, Virginia, is widely recognized for its selection of super extra large gourmet Virginia type peanuts. The company is partnering with the makers of award-winning Pork Barrel BBQ sauce and dry rub to provide the one-of-a-kind specialty barbecue-flavored peanuts to customers around the world. The two companies will unveil the new product offering as part of the NASFT Fancy Food Show in Washington, D.C. from July 10-12, and will be available beginning July 25th online at http://www.feridies.com and http://www.PorkBarrelBBQ.com, and later this summer in grocery stores nationwide.
"People love barbecue and peanuts, so it makes sense for us to combine these favorites and please the tastebuds of people across America and around the world," said Heath Hall, President and co-founder of Pork Barrel BBQ "We're proud to partner with FERIDIES, a family-owned business that's been producing quality products for 38 years. Our businesses are perfect examples of living the American dream and we're having a lot of fun sharing our passion for high quality food products with everyone who craves the unique combination of our award-winning barbecue and the world's best peanuts."
"FERIDIES is known as an innovator in offering the world's best peanuts and specialty foods, and we are proud to bring this barbecue-flavored peanut to the marketplace," said Jane Riddick-Fries, co-founder of FERIDIES. "We take pride in our peanut products and are thrilled to showcase the new Pork Barrel BBQ-flavored variety. People love the Pork Barrel BBQ sauces and dry rub on their meats, poultry, and mixed in side dishes, and now they can enjoy it on FERIDIES peanuts."
Both FERIDIES and Pork Barrel BBQ are known for their attention to quality and nutrition. FERIDIES selects the largest 2% of the peanut crop each year and gently roasts them in small batches by hand in pure peanut oil to keep them cholesterol free, to preserve their natural peanut taste and to maintain their healthy qualities. No artificial preservatives are added to their extra large Virginia-type peanuts.
About FERIDIES
Founded in 1973, FERIDIES is a family-owned and operated business based in Courtland, Virginia. In addition to the company's delicious gourmet Virginia peanuts, it offers peanut candies, cashews, pistachios, almonds, trail mixes and other specialty gourmet foods. FERIDIES offers upscale packaging for gift creations in a variety of price ranges. The company's most important priorities are food safety, quality and exceptional customer service. For more information, visit http://www.feridies.com.
About Pork Barrel BBQ
Pork Barrel BBQ was founded in December 2008 during the peak of the economic crisis to prove that a company not owned or operated by the federal government could succeed, and that if you had a good idea, it was still possible to grab a piece of the American Dream. Pork Barrel BBQ founders, Heath Hall and Brett Thompson, ran the company out of the basement of their houses, selling their award winning BBQ products one bottle at a time. In less than one year, their Pork Barrel BBQ Sauces and Spice Rub were carried in over 1,000 stores in 40 states. Throughout their journey, they have stayed true to their mission – to unite the nation through the great tradition of BBQ, and bring bipartisan flavor to your next meal. The Pork Barrel BBQ Competition BBQ Team entered its first contest, The Safeway National Capital Barbecue Battle, in June 2009, and walked away with two trophies – Second Place in the "Nations Best BBQ Sauce Contest" and Fourth Place for their pulled pork in the Memphis In May portion of the contest. Since then, the team has won multiple awards, including being named the Perdue National Chicken Champions, Grand Champion at the 2011 Safeway National Capital Barbecue Battle, the "Chinet People's Choice" award for best BBQ sauce in 2010 and other notable Memphis in May and Kansas City Barbecue Society BBQ competition accolades as well as having their Pork Barrel BBQ Original BBQ Sauce named Best Sauce in America and one of "The 125 Best Foods for Men" by Men's Health Magazine in November 2010. For more information, visit http://www.PorkBarrelBBQ.com or follow Pork Barrel BBQ on Facebook and Twitter.
###
###