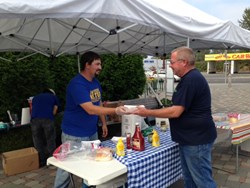 Ferndale, WA (PRWEB) September 16, 2013
In its final fundraiser of the season, the Ferndale Public Market hosted a community barbeque on Saturday, September 14. During extended market hours, people stopped by to enjoy hotdogs and in turn, donated roughly 50 pounds of food and 107-dollars cash, all of which is being donated to the Ferndale Food Bank.
"In addition to hot dogs, anyone who donated, received an ice cream from Sugar Shack," said Ferndale Public Market Board member, Eric Kelton. "I want to thank everyone who came out and donated to this very important cause."
Kelton and volunteers served up 70 hot dogs and Sugar Shack handed out 60 ice creams.
The Ferndale Food Bank serves low-income seniors, neighbors and those in crisis.
About the Ferndale Public Market
The Ferndale Public Market is open every Saturday through October 12, from 10 a.m. to 3 p.m. at the Centennial Riverwalk Park alongside the Nooksack River, off Main Street in Ferndale. The market vendors are anchored by local growers bringing in fresh produce and berries, as well as vendors selling fresh bread, pastries, barbeque sauce and seasonings. In addition, there are a number of artisans selling homemade goods: from hand sewn quilts, wooden toys, homemade lotions and soaps to studio paintings and welded garden art. For more information, please visit http://ferndalepublicmarket.com.
Contact:
Laura Edwards
Ferndale Public Market
360-220-2273
laurascreativeattic(at)live(dot)com