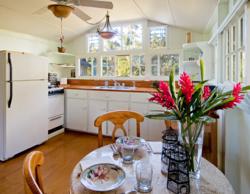 "Traditionally, vacation rental owners handed their guests a key and left them to their own devices, we offer the privacy, space, and independence of a vacation rental, but with extra amenities that
Kauai, Hawaii. (PRWEB) May 27, 2013
Fern Grotto Inn, which recently became Kapaa's top-rated specialty lodging on TripAdvisor, continues to be on the cutting edge of the vacation rental industry. The collection of six vacation rental cottages has always offered an incredible value to guests visiting Kauai's Coconut Coast. Now, Fern Grotto Inn has added complimentary "his and her" bikes and a two-person kayak to its already impressive list of amenities.
"Traditionally, vacation rental owners handed their guests a key and left them to their own devices," says Paul Juma, who owns and operates Fern Grotto Inn. "We offer the privacy, space, and independence of a vacation rental, but with extra amenities that heighten guests' experience of the island."
Juma notes that the Kauai community has made a concerted effort in recent years to build hiking and biking trails along the coast. There is currently a two-and-a-half mile trail running south from Fern Grotto Inn as well as a four-and-a-half mile trail running north from downtown Kapaa. Guests can borrow the "his and her" bikes and explore one or both trails, which boast scenic views of the coastline.
For those who want a little more adventure, Wailua River borders Fern Grotto Inn's tropical gardens, making kayaking a breeze. As guests paddle upstream, they pass lush rainforest and Kamokila Hawaiian Village, which is less than two miles from the property. Guests can also tie up the kayak and hike to Ulwehi Falls, a breathtaking waterfall also known as "Secret Falls" for its remote location.
Fern Grotto Inn, based in Kapaa, Hawaii, has six vacation rental cottages on the east side of Kauai. Fern Grotto Inn prides itself on providing luxury accommodations for guests who want an authentic Kauai experience.
For more information, call Juma at 808-821-9836 or visit his website: http://www.ferngrottoinn.com.