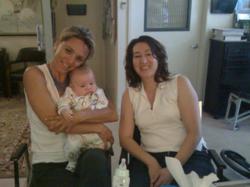 With the class, you get the opportunity to purchase the DVD I made about acupressure for fertility
San Jose, CA (PRWEB) September 08, 2011
Way of Wellness specializes in the treatment of women's health concerns, fertility and related issues in San Jose. Fertility acupuncture treatments have been found to improve a woman's success in getting pregnant by 50%. From noon to 1:30 p.m. on September 24th and all future Saturdays, Way of Wellness is offering a class on yoga and acupressure to improve fertility for $35.
By specializing in Chinese medicine techniques, Shasta Tierra, founder and licensed acupuncturist at Way of Wellness, is able to use her medical and healing specialties to help women and families looking to have children.
"With the class, you get the opportunity to purchase the DVD I made about acupressure for fertility," said Shasta Tierra. "Acupressure for fertility is a gentle acupressure practice designed specifically to enhance reproductive health in women and men who are trying to conceive. It was created to enhance fertility using the tremendous healing power of acupressure to restore hormonal balance, decrease stress in the body, foster the body's vital life force and increase blood flow to the reproductive organs."
Way of Wellness San Jose has a large number of weekend workshops that focus on a variety of topics related to women's health, infertility treatment, back pain and weight loss. Shasta Tierra is also proud to announce her line of herbal fertility formulas for both men and women. These formulas are specifically developed with infertility treatment in mind, to help reduce stress or provide some organ support.
For more information on Way of Wellness and their services, contact Shasta Tierra at 408-627-4535 or visit them at 1101 S. Winchester Blvd., Bldg. N267 San Jose, CA 95128. Also visit their website, http://www.wayofwellness.net for information on their services.
About Way of Wellness
Way of Wellness offers you the very best in Chinese medicine, acupuncture, herbology, nutrition, yoga fertility classes and more. With more than 20 years of clinical experience, Shasta Tierra, founder and licensed acupuncturist at Way of Wellness, utilizes her medical and healing specialties to promote health, healing and longevity.
###