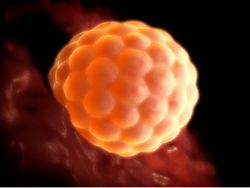 The Year of the Baby
New York, NY (Vocus) December 31, 2009
One of the most popular New Year's Resolutions for 2010 is to get pregnant – and Pregnancy Health Guru's New Year's fertility tips are a great way to improve the odds. So for anyone who has getting pregnant on their New Year's resolution list this year – like Mariah Carey and Fergie – here are some tips to help make 2010 "The Year of the Baby":
1. Understanding Ovulation Cycles
It is only possible to get pregnant during a five day window each month – the five days leading up to and including the day on which the woman ovulates. Ovulation, the time each month when a woman's ovary releases an egg, usually occurs in the middle of the menstrual cycle. One of the keys to getting pregnant is to know exactly when the woman is ovulating. The first step to determine when ovulation is likely to happen is to figure out how many days are in the woman's cycle, by using a calendar to count the days between periods. It is also possible to find out when a woman is ovulating by taking her basal body temperature daily, by using an ovulation test, or by watching for changes in cervical mucus.
2. Boosting Fertility
When trying to get pregnant, there are some ways to use diet and exercise to increase the chances of conception. A well-balanced, nutritious diet can help to keep a woman's hormones balanced and her cycle regular. It's also a good idea to cut back on caffeine and alcohol consumption, since drinking more than three cups of coffee or two alcoholic drinks a day can impair fertility and decrease the chances of pregnancy. Try to keep stress levels down too – studies have shown that people have an easier time conceiving a baby when they are relaxed.
3. Having Sex the "Right" Way
It is common knowledge – in order to get pregnant, people need to have sex. However, not all sexual positions are equally effective when trying to have a baby. Sitting, standing, and woman-on-top positions cam make it harder for the sperm to reach the egg. The missionary position, on the other hand, can increase a couple's chances of conception. A woman can also increase her odds by lying on her back with her legs elevated for about fifteen minutes after her partner's orgasm - and while it's not a requirement, a female orgasm causes spasms in the uterus that make it easier for the sperm to make their way inside.
4. Influencing the Baby's Gender
For most people who are trying to conceive, having a healthy baby is what is important, but some people also have a gender preference. Some doctors believe that the choices a couple makes about how and when they have sex can influence the baby's gender. While this theory doesn't have widespread acceptance, some people believe that "The Shettels Method," named for its creator Dr. Landrum Shettels, allows people to increase their chances of conceiving a baby of their preferred sex. According to the Shettels Method, couples who want a girl should have sex four to five days before ovulation and should use the missionary position, while couples who want to conceive a boy will have better luck if they use deep thrusting positions like rear entry and have sex as close as possible to ovulation.
5. Pregnant or Not?
Once someone has done all that they can to increase their chances of conceiving, it's only natural for them to wonder, "Am I Pregnant?" It's almost impossible to tell whether someone is pregnant until they take a pregnancy test, but there are some early signs and symptoms that people often experience before they get a positive pregnancy test result. As early as two days after conception, the breasts can become swollen and painful. At about seven to twelve days after, there may be a light pink discharge in the woman's underwear, when the fertilized egg implants in the wall of the uterus. Other early symptoms of pregnancy include bloating, fatigue and an increased need to urinate. But of course, the biggest early sign of pregnancy is a missed period.
So will 2010 be the year of the baby for Mariah Carey, Fergie, or for you? Only time will tell – but you can increase your chances of getting pregnant by following these tips! For more helpful hints on how to get pregnant, check out more fertility videos at Pregnancy Health Guru.
###