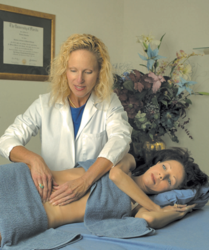 "We use our hands to restore mobility and function. In most cases, this allows natural conception to occur."
Gainesville, FL (PRWEB) June 29, 2011
Theresa Erickson will examine the Wurn Technique, a hands-on fertility treatment, during this live broadcast of Fertility Talk: Your Guide to Building Your Family (formerly The Surrogacy Lawyer Radio Show). The therapy has successfully treated several types of female infertility, and has been cited for its success in prestigious medical journals.
Two decades ago, physical therapist Belinda Wurn and her husband Larry Wurn were newlywed, happy and looking forward to their future together. Their story took an unexpected turn however when Belinda was diagnosed with cervical cancer. After surgery and intense radiation therapy, Belinda was cured of her cancer, but left with debilitating pelvic pain. The young couple set out to find a treatment for Belinda's pain, but found that traditional medicine did not hold the answer.
They learned that Belinda had developed adhesions, tiny bands of internal scar tissue from the surgery. Her pelvis was completely bound by these adhesions. Physicians said their only option was more surgery – this time to cut or burn the scarred tissues, but the procedure itself would create more adhesions.
They began studying non-surgical methods to relieve Belinda of her pain. During years of US and international study of various hands-on physical therapy courses, they developed the Wurn Technique. Their therapy, designed to decrease adhesions (internal scars), has been shown to decrease or eliminate pain in most of their patients. It has brought natural pregnancies and births to hundreds of women who were diagnosed infertile by their physicians.
The Wurn Technique is a compilation of over 200 manual therapy techniques designed to decrease adhesions that form naturally in all people, after trauma, surgery, infection or inflammation. The Wurns began their clinic, Clear Passage Physical Therapy, by treating complex pain patients; they were not prepared for the unexpected side effect it would produce.
Patients and physicians began reporting pregnancies in women who had previously been diagnosed infertile, after treatment by the Wurns. The therapist's first thought was this was an odd coincidence, but the Chief of Staff of the local hospital encouraged them to investigate further. Together with this physician, they published studies about the therapy's ability to open blocked fallopian tubes, increase fertility, decrease intercourse pain, and increase sexual function in women.
They soon realized that they had developed a fertility treatment that was completely natural; in most cases, it replaced the need for fertility drugs or surgery. Twenty years later, with over a thousand estimated babies born to their patients, the Wurns have clinics in various US locations. Their Wurn Technique trained and certified therapists continue to practice this therapy across the US in an effort to help infertile couples build families naturally.
"Adhesions are often the underlying cause of infertility, but they go undiagnosed because they do not show up on traditional medical tests such as X-rays and CT scans," said Belinda Wurn, PT and national director of Services at Clear Passage. "We use our hands to restore mobility and function. In most cases, this allows natural conception to occur."
For more information, contact Clear Passage Physical Therapy at http://www.clearpassage.com or at 352.336.1433.
###