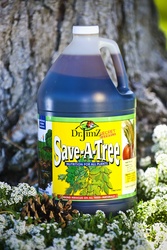 Last year we sold more than 75,000 gallons of Save-a-Tree in the Nampa-Boise area alone
NAMPA, Idaho (PRWEB) January 30, 2008
TerraLife, first known for the fertilizer that uses organic gardening principles to improve tree health, recently has signed contracts with L&L based in Fremont, Calif.; Gard'n Wise of Salt Lake City; Jensen Distribution Services in Spokane, and United Pipe & Supply of Boise.
"Last year we sold more than 75,000 gallons of Save-a-Tree in the Nampa-Boise area alone," said Jos Zamzow, TerraLife vice president. "It is particularly popular with people raising fruit trees. It has been so successful in organic gardening circles here that we are concentrating on national distribution this year. There is a much greater focus on organic gardening and products that are safe for the environment."
"The Zamzows were way ahead of their time in studying organic gardening and realizing that improving plant nutrition produces the best results, whether it is in flowers, vegetables, fruit trees or ornamental and shade trees," said John Benoit, merchandise manager of Calloway's Nursery, Inc. and Cornelius Nursery, Inc., which introduced Save-a-Tree at 23 locations in Texas this month.
"They have been working with all-natural products for more than a quarter of a century now, and there is ample proof of their effectiveness. We are very pleased that they are making their products available outside of Idaho, and we expect the line to be very popular here as well," he added.
The fertilizer was developed almost 20 years ago after Idaho's Jim Zamzow, an early advocate of organic gardening who is affectionately called "Dr." because of his constant research, concluded that mineral depletion in the soil was affecting tree health.
The product's most famous success story was in 1999 when the Harrison Tree, planted near the Idaho Capitol building in Boise in 1891 by President Benjamin Harrison, was dying and scheduled to be cut down.
Zamzow donated Save-A-Tree, and the tree returned to health and grew more in one year than it had in the past three years. Despite this organic gardening success story, the tree unfortunately was cut down last year to make room for the Capitol building's expansion.
The product's base is sugar cane molasses, selected because it smells good, does not attract ants and discourages nematodes, a type of parasitic worm. Ingredients include nitrogen, phosphate and sulfur. Additional components are a secret, but include "just about everything that Dad's research has shown to be beneficial to plants," said Jos Zamzow, who also is "Dr." Jim's son.
The product was first tested for its effect on tree health, but is equally beneficial to shrubs, flowers and vegetables. Tests by microbiologists at Boise State University showed that 24 hours after application, there was an increase of 70 percent in bacteria beneficial to plant and tree health in the soil. After a week, there was a 400 percent increase.
Development of Dr. JimZ Secret Formula products, distributed by TerraLife, Inc., began four generations ago when the Zamzow family opened a feed mill near Boise and became interested in organic gardening principles.
Other products are Plant Wash, a blend of minerals and fatty acids that stimulates plant growth by cleaning the leaves; Concentrated Compost Factor, a growth enhancer derived from mushrooms; Plant-It fertilizer, a planting and transplanting mix that combines fertilizer, root starter and mycorrhizae; Bloom KaBoom!, which maintains flowers on blooming plants and fruit trees; Huma-Iron Granular Fertilizer; and Foliar Calcium.
All products contain only natural ingredients and are safe for use around children, pets and fish. Save-a-Tree is the only non-leaching manufactured fertilizer in the world.
Additional information is available on the Internet at http://www.Save-a-Tree.com or by calling 1.866.855.9552. Individual orders may be placed online.
Note to editors: Additional photos are available.
KEYWORDS: organic gardening, fruit trees, fertilizer, vegetable garden, Save-a-Tree