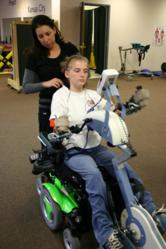 FES cycling gives me sensations that I don't typically have while doing anything else. That gives me hope. - Trenton B.
Overland Park, KS (PRWEB) July 19, 2012
Functional Electrical Stimulation (FES) is used to stimulate peripheral nerves, the "lower motor neurons" that connect the spinal cord to your muscles. Stimulating these nerves evokes patterned movement of the legs or the arms. This is how FES enables muscles to perform work even though the client may have lost all or some voluntary control of the muscles. Pairing FES with a motorized ergometer evokes FES Cycling. Project Walk-Kansas City has been utilizing FES Cycling as an added modality to their intense exercise based recovery program. The benefits of FES cycling are vast and some include but are not limited to: the reversal of muscle atrophy; improved local blood circulation; increased range of motion; reduced muscle spasms; increased bone density; and a decreased risk of pressure sores.
Restorative Therapies, Inc, based in Baltimore, MD is the world's leading developer of FES powered systems, designed to help people with neurological disorders achieve their full potential. Since its launch in 2005 over 10,000 adults and children have undertaken over 300,000 therapy sessions on the RT300. They include people with both complete and incomplete Spinal Cord Injuries, as well as other neurological injuries.
One of the newest features of the RT300-SLSA is the ability to use the "muscle test" feature. This muscle test feature allows the clinician to use the FES away from the ergometer. At Project Walk-Kansas City, we have been able to utilize FES during functional activities such as static standing or assisting a client while they perform sit to stands. This feature allows us to stimulate the appropriate muscles to aide in the performance of the activity.
FES and FES Cycling is an intricate part of the program at Project Walk-Kansas City. It allows clients to use muscles once thought to be lost. With the help of FES and FES Cycling, clients can have a chance to make great strides in their recovery and take a "small step" towards independence.
Project Walk-Kansas City is an Overland Park, KS based company that provides an aggressive, exercise-based spinal cord injury recovery program to people suffering from spinal cord injuries. Founded in 2008 and formerly known as Quest to Walk, Project Walk-Kansas City is the only non-profit facility of its kind in the Midwest. For more information, please call 913.451.1500 or visit http://www.projectwalk-kansascity.org.