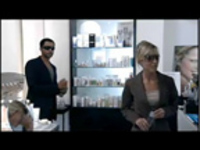 PORTLAND, Ore. (PRWEB) December 31, 2007
Anyone who has ever studied the filmmaking process knows most films end up being significantly edited with plenty of individual retakes. A single moving master shot requires all actors move in perfect sync with the camera. The cinematographer must maintain composition and focus throughout the single camera take while the actors perform the entire precisely choreographed scene without stopping.
Because of the many difficulties presented, this single-take technique is rarely used. Yet Pereira and Streich pull it off twice this year. Their first project, "Who's Good Looking?", is a 7 minute moving master. This witty portrayal of aesthetic obsession follows a couple's sarcastic argument as they storm through an upscale skincare boutique.
In "Superhero Talent", a high-powered business executive argues that the talented don't need love like the untalented. His fawning co-worker disagrees, pitting talent against love. This single take clocks in at 11 minutes.
'Superhero Talent' screens Thursday, January 3, 2008 at 4:30 pm. 'Who's Good Looking?' screens Sunday, January 6, 2008 at 12:30 pm. The Official Festival Schedule is online: Festival Schedule (http://www.studioscreenings.com/FATbhhf.php)
The Beverly Hills Hi-Def Film Festival is the first all HD festival in Beverly Hills screening from a state-of-the-art HD 2K Christie projector at the Fine Arts Theater.
Go to http://www.wfilms.biz for more information on the films and to view video clips.