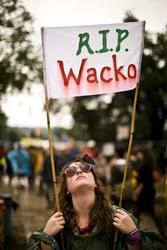 Westminster, London (PRWEB) July 6, 2009
London based agency Independents United have announced a publishing first: an annual photographic record of the UK's intense devotion to music festivals. With festival-goers themselves taking on a crucial role in the book's creation.
UK festival culture continues to grow at an explosive rate with attendances now at record levels, in spite of all that mud. It's a unifying, peculiarly British phenomenon: The British public a seriously dedicated bunch of optimists when it comes to festivals - with many again packing sun lotion for this year's Glastonbury Festival, only to then stand in a field full of cagoules, umbrellas, and soggy toy animals on sticks, ecstatically rocking out.
Festival Annual mainlines our collective social networking bug and enthusiasm for uploading and sharing images, and offers it up for boundless creative fun, with MySpace UK, the official digital partner, playing a crucial part. Festival-goers are invited to share their most memorable festival experiences from this Summer by uploading and tagging their pictures to Festival Annual's digital galleries, and sharing their stories through comments, status updates and tweets. Every single contributor will get their name in the book, with the best photos and stories featuring throughout its pages and in its online home at MySpace.com/FestivalAnnual.
Festival Annual 2009 will be the first of an annual celebration of each year's festival season - the photographic embodiment of each and every summer - for all those who rejoice in festival culture, being outdoors and of course, covered in mud. It will feature chapters for each of the key festivals this summer.
Full image galleries from Isle of Wight, Rockness, Download and the king of festivals, Glastonbury can be seen at MySpace.com/FestivalAnnual.
UK celebrities will be making their own contributions to Festival Annual too - each chapter will also feature images and musings from some of the more famous die-hard festival attendees, there to experience exactly the same kinds of thrills as your average punter.
Radio One DJ Edith Bowman commented: "Six months of my year are devoted to festivals - my favourite time of the year actually. There is so much more to festivals in the UK than just the bands. There is real camaraderie that goes on with the people who devote their weekends to hanging out in fields up and down the country. Whether they are knee high in mud, dressed as goth fairies or discovering some new band, Festival Annual 09, with the help of these people, is documenting the essence of the UK festival season so we can look back in years to come and remind ourselves of the good times."
Throughout the summer there will be prizes for the best pics and the public will also be able to cast their vote for the monthly winners of the Festival Annual Awards. This year's Festival Annual categories are: The Best FestiDress Award, Team Festival Award, Festifunniest Award and the Spirit of the Festival Award. The monthly winners and best of the nominees will be featured in the published book. Votes in the form of comments for the monthly winners can be submitted and seen at MySpace.com/FestivalAnnual.
In its glossy, gorgeous, physical form, Festival Annual will be arriving on shelves and available to buy online in the Autumn - the perfect end-of-year gift for the festival-loving, story-telling, digital generations.
In the spirit of the festival season, Festival Annual '09 will donate 10% of all profits to Oxfam.
Festival Annual
MySpace.com/FestivalAnnual

* Win a Pair of Festival Tickets: * *
Chance to win a pair of festival tickets for next summer. Everyone that signs up to receive the Festival Annual email updates will be entered into the prize draw to win the tickets.
To sign up and be entered into the prize draw go to:
http://www.festivalannual.com/updates
* Special Early Bird Offer: Get 50% Off! * *
In celebration of the start of the festival season, the first 500 pre-orders of Festival Annual 09 will get a 50% reduction in price of £12.50 + P&P (RRP £25).
First 500 pre-orders will get 50% off / £12.50 + P&P (RRP: £25)
Use Promo Code: FESTILOVE
http://www.festivalannual.com/shop
###