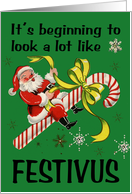 Celebrating Festivus is tongue in cheek to some, serious to others, but everyone who observes it enjoys the comedic relief it provides.
San Francisco, CA (PRWEB) December 10, 2012
Greeting Card Universe, the world's largest greeting card store, announces its popular collection of 371 original and hard to find cards for Festivus, coined as a holiday for the rest of us.
"Festivus is a global, pop culture phenomenon," says Mindy Rosso-Gaemi, Community Manager at Greeting Card Universe. "The secular celebration is tongue in cheek to some, serious to others, but everyone who observes Festivus is taking a break from the usual stresses of the winter holiday season - enjoying some levity and comedic relief."
Festivus, held annually on December 23rd, was popularized in an episode of Seinfeld aired on December 18, 1997. Screenwriter Daniel O'Keefe's father conceived of Festivus as an alternative to Christmas during O'Keefe's childhood. By using the fictional Festivus in the U.S. sitcom, he not only struck comedy gold, he created an eccentric, fun new holiday.
"Some offbeat traditions are associated with Festivus," says Rosso-Gaemi, "including the Festivus pole—a bare aluminum pole, the 'Airing of Grievances'—exchanging disappointments with family members or friends, and the 'Feats of Strength'—a wrestling competition, tug of war, or keg tossing event with the head of the household. It's also customary to eat a meatloaf or spaghetti dinner and to label everyday occurrences as 'Festivus Miracles.'"
Artist Tom Heintjes began offering Festivus-themed cards on his Greeting Card Universe storefront, The Festivus Pole, as a way to allow others to acknowledge the holiday. "Festivus is an almost perfect complement to the traditional holiday season," he said. "It's secular, so it crosses all belief groups. It's not materialistic, and the pop-culture aspect makes it hip. But most of all, it's fun! Sending a Festivus card distinguishes your card from the others."
Greeting Card Universe's online collection of Festivus cards makes it simple and convenient to order a special card to send Festivus Greetings (or to get grievances off your chest) to friends, relatives, employees, customers, and suppliers. Shoppers can personalize the inside of all cards at Greeting Card Universe with their own text and photo.
"Adding a personal touch couldn't be easier while enjoying the ease of ordering online. Custom greeting cards can also be created within 48 hours at no additional cost by requesting changes or a totally new design from our artist community of over 5,500 freelance artists from around the world," says Rosso-Gaemi. "And you can order online and pick up your cards - usually within 1 hour - from most Target stores across the country."
Discover more uncommon and hard to find cards for upcoming winter holidays and events like interfaith Chrismukkah, Kwanzaa and Ugly Tacky Christmas Sweater Party Invitations which are mainstays at Greeting Cards Universe. Staying true to its tagline "any card imaginable," Greeting Card Universe's traditional and niche offerings of over 577,000 cards gives nod to the importance of choice and personalization in today's marketplace. Explore more offbeat holidays and occasions on the Greeting Card Universe BLOG.
About Greeting Card Universe
Greeting Card Universe (http://www.greetingcarduniverse.com) is a division of BigDates Solutions, a private company that provides consumers with unique, personalized services for any holiday or occasion. Greeting Card Universe is the world's largest paper greeting card store, offering an unlimited selection of custom greeting cards, birthday greeting cards, photo cards, invitations, and note cards. BigDates Solutions is the leading provider of Online Reminder Service Solutions, powering gift-reminder services, including 1800Flowers.com and FTD.com. The company is also the owner of Birthday Calendar, a Facebook application with over 43 million installs.