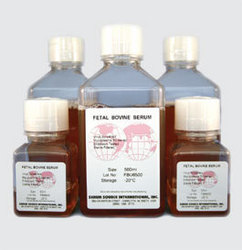 Spectrum is already a source for many of the reagents, lab supplies, and equipment used in cell culture applications, so it makes sense for us to offer a broad selection of growth media to enhance our position as a one-stop source for life science products
Gardena, CA (PRWEB) July 24, 2009
Spectrum Chemicals & Laboratory Products (Spectrum) announced the launch of a new line of premium quality Fetal Bovine Serum (FBS) ideal for many cell culture applications.
In partnership with an established biotechnology supplier, Spectrum now offers fetal bovine serum originating from abattoirs located in the US, Mexico, Canada, and Australia. Each FBS order includes a full biochemical and chemical profile, as well as certification of the country of origin. All of Spectrum's new serum products are in compliance with cGMP pharmaceutical standards, United States Department of Agriculture (USDA) guidelines, and the Food and Drug Administration (FDA) regulations.
In addition to untreated premium FBS, secondary treatments such as heat inactivation, dialysis, or gamma irradiation are available as standard catalog items. Spectrum also announced the availability of specialty pre-screened FBS for embryonic stem cell research. This serum is pre-tested for its ability to support the growth of undifferentiated colonies of embryonic stem cells so that additional testing at customer sites is minimized. Spectrum includes value-added services in support of their new FBS products, including a generous lot-reserve and sampling program.
"Spectrum is already a source for many of the reagents, lab supplies, and equipment used in cell culture applications, so it makes sense for us to offer a broad selection of growth media to enhance our position as a one-stop source for life science products", says Dr. Arnie Aistars, Chemicals Product Manager at Spectrum. He adds, "We are committed to increasing our profile in the life sciences and biotechnology markets and now have a great foundation on which to build".
About Spectrum Chemicals & Laboratory Products
Founded in 1971, Spectrum Chemicals & Laboratory Products manufacturers and distributes fine chemicals for production and laboratory facilities around the globe. All of Spectrum's worldwide facilities are ISO 9001 certified, and the California and New Jersey plants are FDA registered drug establishments and operate under current Good Manufacturing Practices (cGMP). For more information on Spectrum Chemicas & Laboratory Products, visit - http://www.SpectrumChemical.com.
###