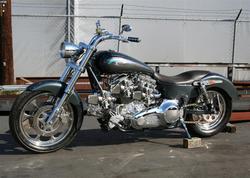 Rare factory motorcycle is 1 of 18 and has 150 horsepower
Las Vegas, NV (PRWEB) December 30, 2010
Rare 1 of 18 Feuling W3 motorcycles, produced and sold by the Feuling Motor Company, to be at Las Vegas auction Thursday, January 6th 2011. Own a piece of motorcycle history!
The W3 ® is a three cylinder W configuration engine, designed and developed by the late Jim Feuling (1945 - 2002) and his crew. A truly revolutionary design, the W3 ® engine is air cooled, two-valve, triple gear driven cam, with a 4" bore and 4"stroke creating a 150 cubic inch monster. Amazingly this engine produces 150 horsepower and 170 ft-lbs. of torque to the rear wheel.
Luke Leatherman from Feuling Motor Corporation states: " The engine uses its cubic inch to create all the power thus keeping the package very reliable. The three-cylinder arrangement pro-vides inherent smoothness, and the low center of gravity is perfect for motorcycles".
FEULING BACKGROUND:
Jim Feuling and colleagues have developed and licensed technologies to many major companies over the years, including Ford, Harley-Davidson, Oldsmobile, Edelbrock, Bell Sports and Shoei. The FEULING Companies have been home to many world land speed records including the world's fastest motorcycle (332.103 mph), the world's highest horsepower engine (10+ hp per cubic inch), the world record for the flying mile (267.399 mph) driven by A.J. Foyt in the Olds/Feuling Aerotech, the world class CENTERFIRE and MAX FLOW cylinder heads, the AR exhaust system, the CVX muffler, the high efficiency Three-Valve Combustion Chamber System and the awesome W3 ® motorcycle engine. With decades of experience in automotive, motorcycle and aviation design and development the staff at The Feuling ® Motor Company is second to none.
Additional specs and questions about the W3 ® should be directed to Feuling at 619-917-6222, info(at)feulingparts(dot)com
YEAR: 2003
FRAME #: 4K7S813541COO9894
ENGINE #: *FEULG0009KW3*
Odometer: 340 mi
Engine: 11.7 hours
http://www.feulingparts.com/w3motorcycle.php
Auction details:
Mid-America Auctions - 20th Annual motorcycle auction
Sale January 6-8
South Point Hotel Exhibit Hall
9777 Las Vegas Blvd S
Las Vegas, Nevada
651-633-9655
http://www.midamericaauctions.com/showauction.asp?Keywords=feuling&Search=Search&ID=161
###