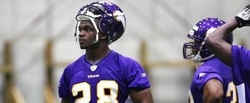 "We are excited to incorporate our new weekly segment, Millman's Mail Bag, into this LIVE format," - Jon Millman, FFChamps.com co-founder & fantasy football expert.
Newton, MA (PRWEB) September 1, 2010
The debates have begun. Adrian Peterson or Chris Johnson? Will Ryan Matthews live up to his rookie hype? Should a Quarterback be drafted in the first round?
Fantasy Football season is kicking into high gear. Though many drafts occur right after Labor Day, drafts start to kick into overdrive at the end of August and the first week of September as well.
If you're looking to win your Fantasy Football league, whether the prize be cold hard cash, or simply bragging rights, then this Wednesday September 1, FFChamps.com is featuring a do not miss, MUST see, LIVE online event, right before your fantasy football draft and season.
Wednesday, September 1 at 8:00 pm EST, Fantasy Football Champs, http://www.FFChamps.com, will be airing their FINAL Pre-Draft & Kickoff Strategy Special Event LIVE online. The format will feature draft strategy, in-season strategy, as well as a special 60 minute event where FFChamps.com expert, Jon Millman, will take and answer your questions live. Watch the live show here http://www.ffchamps.com/ffchamps-live/.
"This is a game changer and must see broadcast for any Fantasy Football player serious about winning their league, the cash, and the bragging rights," said Jon Millman, Co-Founder of FFChamps.com. "We are excited to incorporate our new weekly segment, Millman's Mail Bag, into this LIVE format," added Millman.
If you are looking for extraordinary results in your league, watch the FFChamps.com pre season special and submit your own questions to, http://www.ffchamps.com/ffchamps-live/ on Wednesday 8pm.
FFChamps.com offers extraordinary results all season long, from your Fantasy Football Draft to your Championship. FFChamps.com has the most cutting edge Mock Draft software to prepare with; the best draft alerts, advice, strategies, and rankings; the inside track on who to play each week; rest of season rankings; trade, waiver and One-on-One Expert Advice; mobile access anytime; real-time Strategy Alerts sent right to your phone; and, play and win weekly cash prize competitions amongst other members and our experts.
About FFChamps.com/Fantasy Football Champs LLC
Since 1999, Fantasy Football Champs/FFChamps.com/ has been the leader in providing high level fantasy information, player rankings, content, and one-to one advice to thousands of fantasy football players nationwide. FFChamps.com is rated the all time most winning fantasy football expert website from 1999-2008 in the Fantasy Football Index Magazine Expert Poll.
For more information contact:
Sarah Perry
188 Needham Street #255
Newton, MA 02464
617-517-9316
###