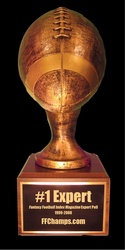 "Our rankings are updated daily, we have an experienced and successful staff of Fantasy Football experts keeping a close eye on everything that could affect a player's performance"-Bill Enright, General Manager of FFChamps.com
Newton Upper Falls, MA (PRWEB) June 30, 2010
(PRWEB) June 30, 2010 -- July 4th is a great holiday. It means summer, great food, hot weather, fireworks, and most importantly, celebrating the United States of America. America has always meant freedom, Apple Pie, and Baseball, the national pastime. In recent years, July 4th marks the beginning of the Fantasy Football season. With over 27 million American's now playing Fantasy Football, it has become the national present time—and as American as Apple Pie.
In celebration of America's birthday and the existence of Fantasy Football, FFChamps.com is excited to announce that it will be offering all Americans who play and want to win in Fantasy Football a July 4th Special, giving anyone who signs up for FFChamps.com on July 4th or July 5th, 20 percent off its already best in-industry value. "If you want to win the cash, the trophy, and the bragging rights in your Fantasy Football League, then we will help you make that happen," said Bill Enright, General Manager of FFChamps.com. "FFChamps.com has the best all time record in the history of Fantasy Football Index Magazine's Expert Poll and look forward to continuing to keep that track record intact while we help you win. FFChamps.com's Mock Draft tool is the state of the industry, and is better than CBSSPORTS or Yahoo's. If you use our Mock Draft tool and industry best draft kit, you will go into your Fantasy Football Draft more prepared than everyone," added Enright.
FFChamps.com's mathematically and human generated player rankings, the Fantasy Football Champs Performance Index—also known as the FFCPI—is the flagship product and the key to FFChamps.com's extraordinary results for fantasy football dominance "Our rankings are updated daily, we have an experienced and successful staff of Fantasy Football experts keeping a close eye on everything that could affect a player's performance" said Enright.
Celebrate America and Fantasy Football kick off with FFChamps.com. "All you need to do is use the Code AMERICA on July 4th or 5th at FFChamps.com", said Enright.
About FFChamps.com/Fantasy Football Champs LLC
Since 1999, FFChamps.com/Fantasy Football Champs has been the leader in providing high level fantasy information, player rankings, content, and one-to one advice to thousands of fantasy football players nationwide. FFChamps.com is rated the all time most winning fantasy football expert website from 1999-2008 in the Fantasy Football Index Magazine Expert Poll.
For more information contact:
Sarah Perry
188 Needham Street #255
Newton, MA 02464
617-517-9316
###