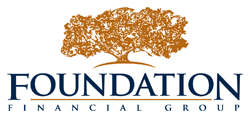 Jacksonville, Florida (PRWEB) March 19, 2012
As part of its annual list of area rising stars, the Jacksonville Business Journal has named Foundation Financial Group CEO Mark W. Boyer as one of the "40 Under 40" for top business professionals in Northeast Florida under the age of 40.
Foundation Financial Group originated billions of dollars in financial services for American homeowners from 11 locations across the country and employing hundreds of financial professionals in the United States. Despite the depressed economic climate and challenging mortgage market, Boyer has helped Foundation Financial Group sustain an 14-percent increase from January 2010 to present, enabling the company to expand at a greater pace and creating over 200 new jobs.
Foundation Financial Group's board of directors promoted Boyer to his current position in January 2011. In his first year as the company's CEO, Boyer has lead a strategic realignment of the company, including opening two new regional mortgage centers in Rochester, N.Y. and Dallas; opening a retail branch network; launching its services in nine additional states; acquiring another insurance company; being recognized as one of the "Top Companies that Care" in Jacksonville, Fla.; and being awarded one of the "Best Companies to Work For" by Florida Trend magazine. Also under Boyer's leadership, the company's new green initiative will save the enterprise thousands in revenue annually while benefiting the environment. Foundation Financial Group also earned its first spot on the Inc. Magazine's 500|5000 list of America's fastest-growing companies for 2011 under Boyer's leadership.
Since joining the company, Boyer has kept Foundation Financial Group's portfolio performance in the top-five percentile for all private investors. A delegated affiliate of the Federal Housing Administration since May 2008, Boyer supervises the department that ensures company compliance with state and federal regulatory standards. He has acted as spokesperson and mortgage expert for Foundation Financial Group, which is licensed in 37 states. In addition, he spearheaded the formation of the company's Philanthropy Department, through which Foundation Financial Group employees donate thousands of dollars and hours per year to worthy causes. Boyer aids in upholding company principles as Foundation Financial Group pushes its core beliefs in hard work, efficiency and rapid growth, with a commitment to its employees, community and to customer satisfaction.
As director and creator of the business production model utilized by the entire company, Boyer has given his managing and mortgage expertise to Foundation Financial Group for nearly eight years. Prior to earning the CEO position, Boyer was a key player in the daily operations of the business as executive vice president where he oversaw a range of budgetary and business transactions, such as hedging portfolio risks and managing closing costs and clientele, as well as third-party interactions with strategic partners. He was also responsible for underwriting standards, secondary marketing efforts and the execution of sales.
Raised in the rural town of Arendtsville, Pa., Boyer learned the value of hard work through the ethic shown by his father, who worked at a local factory. After attending Pennsylvania State University and graduating with a degree in marketing, Boyer worked his way south, starting at Foundation Financial Group in November 2004 as a mortgage professional, he then moved through the company and became the executive vice president of operations in January 2009. Married, with a three-year-old daughter, Mark enjoys volunteering for and giving financially to various causes that are important to him, as well as gearing up for college football season. Still a Lion at heart, Mark is working to establish a recruiting network for Foundation Financial Group from Pennsylvania State University, which boasts the largest alumni association in the world.
The Business Journal selected 40 of Northeast Florida's brightest, most promising professionals for the 2012 "40 Under 40" list. The weekly business magazine will recognize Boyer and the 39 other nominees in its April 6 issue following a breakfast on April 5 at the University of North Florida.
About Foundation Financial Group
Foundation Financial Group, one of the nation's fastest-growing financial services companies, specializes in mortgage lending, property and casualty insurance, life insurance, retirement services, personal taxes and corporate tax services. Foundation Financial Group operates seven regional centers across the U.S. as well as a branch network of retail storefronts. Foundation Financial Group offers mortgage refinancing and first-time buyer lending through traditional financing, as well as Federal Housing Administration and other government-backed home loan programs. Foundation Financial Group enjoys an A+ rating from the Better Business Bureau, the highest accreditation the BBB gives and an industry-leading Federal Housing Administration compare ratio. For more information, call 866-334-1001.
For additional information, interview and image requests, contact The AXIA Public Relations Firm at 866-999-2942, ext. 700.