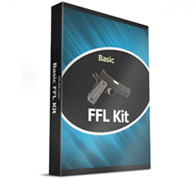 This complete course offers a 150 percent guarantee of the course cost if a dealer license is denied.
San Francisco, California (PRWEB) January 24, 2013
The Bureau of Alcohol, Tobacco, Firearms and Explosives helps to regulate the sale of weapons in the United States. The new legislation that is currently being drafted in congress has helped place more emphasis on ways to purchase discounted firearms. A new FFL dealer license course is now offered online at the FFL Kit website to interested men and women who want to become a licensed dealer. This complete course offers a 150 percent guarantee of the course cost if a dealer license is denied.
The Gun Control Act is one that is currently under review and changes are being considered to prevent some citizens from owning, holding or selling weapons in the U.S. Men and women who have the interest to purchase various forms of weaponry could setup a small business to resell these items to the public. A license is required to conduct these transactions and the new FFL license course online seeks to help educate the public.
Any license holder approved to sell a weapon is required by law to keep records on file for a five-year period. A license can be revoked if records are not maintained and categorized properly. This information includes part of the educational course materials that are now provided. One of the benefits of this new online course is the master list of wholesalers that is provided after course completion.
This wholesale list is offered as the final resource to a man or woman who completes the new online course. This list contains come of the top distributors in the U.S. that offer large discounts for all forms of legalized weaponry. This list can be used for personal or commercial intent to help any person licensed to purchase a weapon to do so at industry standard trade pricing.
Those interested in learning more about how to get a FFL permit could benefit from the course now offered. Enrollments are now open and more information can be found on this page of the FFL Kit website.
About FFL Kit
The FFL Kit is one of the only resources online that provides a complete training course that is backed by a 150 percent guarantee. All students who complete the course training and receive a license can benefit from the error-free concepts that are taught. This course training is designed to offer every document, resource and piece of information that is required for all U.S. gun dealers. The FFL Kit company has offered offline versions of this course since 1997 and is now providing online access to the 2013 updated course instruction.