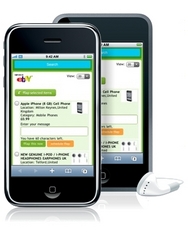 thousands of eBay sellers need innovative social eCommerce apps to sell their way out of a difficult economy
(PRWeb UK) May 29, 2010
fflap is the first application to be certified by eBay as a social e-commerce marketing platform and is now available from the eBay solutions directory and the Apple Web Apps social networking directory.
fflap.com enables eBay members to generate faster sales, maximise profits and encourage added bidding activity. The basic, free package has tools to search for listings, select the relevant items to inform social networks, add a personalised message, schedule messages and then track and graphically report the success of the fflapped message through bidding to sale. With tracking and reporting, users can adjust fflap strategies to maximise results for a specific trading style. fflap.com is the only site dedicated to providing social eCommerce tools for eBay users.
fflap.com founder, Jonathan Yates, said: "eBay businesses require innovative new tools to enable them to sell their way out of a difficult economy. The ifflap continues our passion to develop eCommerce applications for individuals and businesses using new and exciting technologies such as the iPad"
eBay comments: "Through the eBay Developers Program, members are developing tools that will help make it faster and easier for users to trade within the eBay marketplace."
fflap, which is available on the Web, the iPhone and the iPad has been developed for anyone who sells using eBay, whether a business or an individual. The free service allows access to a basic set of tools and gives registered members a chance to use the service for free, for life. fflap.com is subscription based with monthly fees starting at $2.50 for the premier version and $3.00 for the professional version. The small monthly contribution opens up access to tracking, reporting, scheduling, greater daily fflap allowances, early release tools and premium support. The subscription packages have been designed to give each user the tools they need to communicate with customers effectively and profitably.
For further information visit:
http://www.fflap.com
http://www.apple.com/webapps/socialnetworking/
http://www.apple.com/webapps/socialnetworking/ifflap.html
fflap.com, we create the apps which make the social net work
# # #