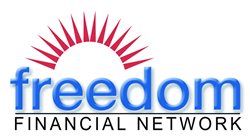 Time will tell if consumers will continue to exercise some spending restraint through the holiday season, or run up additional debt.
San Mateo, Calif. (PRWEB) December 12, 2014
As 2014 draws to a close, consumers finally have slowed somewhat their rush to add credit card debt, notes the Freedom Financial Network Quarterly Comment on consumer debt and credit issues, although it remains to be seen how people will fare financially during the holiday spending season.
Freedom Financial Network, LLC, observes several economic indicators closely and provides consumer education in its work to help consumers get out of debt and stay out of debt.
"The most recent financial data released for November show steady employment, income and spending," said Kevin Gallegos, vice president of Phoenix operations for Freedom Financial Network (FFN). "On the other hand, consumers continued to increase their total debt loads in October, the most recent debt data available. Holiday spending forecasts this year predict a modest increase over last year. We don't know if consumers will do their buying using cash on hand, or add to their revolving debt."
October's increase in consumer debt was less than 5 percent, similar to the rate in September and August. The rate was a marked decrease from the first seven months of the year. This is good news for consumers' financial health, Gallegos noted, especially when coupled with still-strong personal savings rates and declining fuel prices, which will put money in wallets instead of gas tanks this month.
"Time will tell if consumers will continue to exercise some spending restraint through the holiday season, or run up additional debt," added Andrew Housser, FFN co-founder and CEO. "We urge people to be cautious with the remainder of their holiday shopping by using a holiday budget and remembering that the holidays are about far more than spending, debt and paying bills long after the new year arrives."
Recent financial data as reported:
1. Total consumer debt increases, but more slowly. In October (the most recent data available), consumer credit rose by 4.9 percent, year over year. With the increase, total consumer debt (excluding mortgage debt) is projected at $3.278 trillion, which is $12 billion higher than the previous month. Outstanding debt has hit a new record high for each of the past 35 consecutive months.
2. Revolving debt also climbing. In October, total consumer revolving debt, which includes credit card debt, rose by only 1.3 percent – a dramatic slowing from the second quarter of 2014, when revolving debt climbed by 6.3 percent. The total amount of revolving debt held by U.S. consumers was $882.6 billion, or $1 billion higher than in September.
3. Personal income continues to creep up. In October (the most recent data available), personal income rose by $32.9 billion, or 0.2 percent, at a pace consistent with that of the past few months. Disposable personal income also increased by 0.2 percent, or $23.4 billion. (Spending increased at the same pace, by 0.2 percent in October.)
4. Unemployment holds steady. The national unemployment rate was unchanged at 5.8 percent in November.
5. Consumers continue to save. In October, consumers saved 5.0 percent of their income, the same as in September, but up from rates that were in the 3 percent range earlier this year.
The FFN Quarterly Comment pulls together significant statistical releases and provides quarterly comment on timely debt and credit issues that matter to consumers. To schedule an interview with Kevin Gallegos or Andrew Housser, contact Aimee Bennett at 303-843-9840 or aimee@faganbusinesscommunications.com.
Freedom Financial Network (http://www.freedomfinancialnetwork.com)
Freedom Financial Network, LLC (FFN), provides comprehensive consumer credit advocacy services. Through the FFN family of companies – Freedom Debt Relief, Freedom Tax Relief, ConsolidationPlus, FreedomPlus and Bills.com – FFN works as an independent advocate to provide comprehensive financial solutions, including debt consolidation, debt resolution, debt settlement and tax resolution services for consumers struggling with debt. The company, which has resolved more than $3 billion in debt and assisted more than 265,000 clients since 2002, is an accredited member of the American Fair Credit Council, and a platinum member of the International Association of Professional Debt Arbitrators.
Based in San Mateo, California, FFN also operates an office in Tempe, Arizona. The company, with 650 employees, was voted one of the best places to work in the San Francisco Bay area in 2008, 2009, 2012, 2013 and 2014, in the Phoenix area in 2008, 2009, 2010, 2012, 2013 and 2014. FFN's founders are recipients of the Northern California Ernst & Young Entrepreneur of the Year Award.
(end)