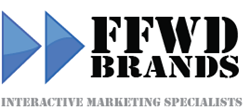 We don't just design you a pretty website; we focus on things which freelance designers often have challenges with.
Houston, TX (PRWEB) February 15, 2014
FFWD Brands, a digital marketing company, has just announced that it has rebranded itself, and will be implementing major changes and strategy shifts. The company is making these improvements and revisions thanks to a major outside investment from a Private Equity firm.
For example, the online marketing firm will be opening a new office in New York. FFWD Brands will celebrate the grand opening of its new location on Tuesday, Feb. 18. In addition, FFWD Brands will significantly expand its content marketing division by hiring new employees at numerous locations.
Jessica Cornish, Chief Marketing Officer for FFWD Brands, said to celebrate the company's growth, they will offer special discounts to new customers who sign up with the firm during the month of February.
"Small business owners should hire FFWD Brands if they care about building an online presence which generates them quality leads, which turn into loyal customers," Cornish said, adding that her company's website design and development service offers clients great value.
"We don't just design you a pretty website; we focus on things which freelance designers often have challenges with. For example, we build a website that generates you more business. If you care about your business and want to grow your business by reaching all those customers who are searching for services you provide online, you need to avoid freelance designers or offshore providers just to save a few bucks. We will work within your budget and offer you practical business and marketing advice which will help you get more sales and more customers."
Cornish, noted that over time, FFWD Brands, which she refers to as a "one stop solution to all your online marketing needs", has helped more than 1,000 small business owners grow their business by reaching their targeted online audience.
"If you are looking for a new website or if your current website is not generating the leads and sales you were hoping it would, call us for a free consultation now and we'll show you how we can help grow your business," Cornish said.
"Don't get scammed by fly-by-night service providers who are all offshore. Call us now and you will be surprised at how affordable our services are; we will match or beat all reasonable quotes by our competitors. Get it right the first time and work with professionals you can trust."
About FFWD Brands:
FFWD Brands is a digital marketing company specializing in comprehensive marketing strategies, implementation, analysis and reporting. FFWD Brands areas of expertise include web design/development, turnkey ecommerce websites, social media marketing, email marketing, search optimization, PPC campaigns, multi-media and content marketing. For more information please visit http://www.ffwdbrands.com.