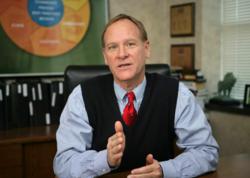 This means that if we get in market now, we enter the sales cycle earlier and avoid becoming column fodder later. - John Frantz
Grafton, WI (PRWEB) April 05, 2012
The Frantz Group announced the release of its latest study, titled "2012 Business Software Demand Generation Marketing Report." In the report, Frantz Group analyzed the findings of senior marketing executives at business software companies to determine what worked – and what didn't in 2011. In addition, the report also highlights a look ahead to marketing in 2012.
From the report, the marketing executives stated that business to business marketing tactics that worked the best in 2011 were integrated marketing programs, regularly scheduled webinars featuring industry experts and trade shows. Frantz Group added that in its experience other winning tactics were original thought leadership content, C-level setting, highly targeted messaging, complete and fully functional data, video, solid SEO strategy and some PPC ads on industry watering hole sites with tight lead criteria.
The tactics that didn't work best according to the marketing executives were traditional cold calling, purchased lists, too much emailing, print, inbound marketing and social media. Frantz Group agreed that traditional cold calling should be retired and instead replaced by strategized, integrated calling. Frantz Group also agreed that poor data and too high of expectations of a lead generation program are issues. Lastly, Frantz Group has noted that poor positioning can pose a huge issue for many marketing campaigns. "We need to get clear, visually supported positioning out there in the first 10 seconds of any conversation." says Frantz Group president John Frantz.
On the subject of Marketing Qualified Leads (which is the primary result of lead generation programs), the survey data showed that to achieve these leads, a wide variety of touches and time occurs – anywhere from 1 to 350 touches, over a time period of 1 – 46 weeks and a cost of $50 - $2700 per lead. This is a large area of concern for survey respondents; over 50% feel that the top area needing work is the quality of the leads. Looking into this further, Frantz Group feels as though there are a couple of issues at hand – one is that less than ideal leads are being passed and the other is that reasonable leads can be passed to sales but not properly qualified after lead passing.
This brings us to one of the biggest topics of 2011 and 2012 as well. Frantz Group believes one of the best ways to win is to qualify leads earlier in the sales cycle by connecting with prospects so that they understand the value proposition.
Looking ahead to 2012, the survey respondents stated that they felt that the biggest challenges for 2012 are budget/resources, creating quality content and generating more leads. The biggest opportunity that was noted was to capitalize on awareness generated in 2011. While 2011 was a challenging year, every respondent said that they expected 2012 to be a higher revenue producing year than 2011 and about half would be spending more money on their marketing expenses.
As for meeting their 2012 revenue goals, 94% of survey respondents will be marketing to the C-suite with 60% believing that it is vital to their success. Frantz Group agrees with this thought process. In their experience, success for the C-suite includes thought leadership content and specially trained C-level professionals.
For 2012, Frantz Group's short list of key tactics will include C-Level marketing, thought leadership
content, rifle-shot social marketing, balanced and integrated inbound/outbound programs, and solid marketing information to segment prospects and drive successful, cost effective campaigns. Frantz Group believes that marketing will be more successful in 2012 with the inclusion of better profiling, scoring, more concentrated nurturing, and great content on all levels.
"I think that slowly the market is improving; people are beginning to realize they're back to level ground, grasping the idea that they could miss new business opportunities. This means that if we get in market now, we enter the sales cycle earlier and avoid becoming column fodder later. The time to act is now." added John Frantz.
Frantz Group is a leader in innovative marketing and communications and has extensive experience working with companies to enhance their marketing efforts. With almost two decades in business, Frantz Group continues to exceed client expectations through the delivery of integrated solutions designed to help companies effectively reach their target audiences, overcome marketing obstacles and increase sales.
For more information, contact Ken Heun at KenH@thefrantzgroup.com or by phone, at 262-204-6021.