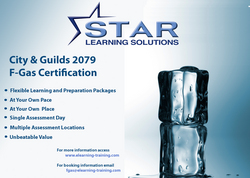 this initiative addresses two of the largest cost implications arising from the training costs associated with this statutory requirement - a major reduction in
Glasgow, UK (PRWEB) March 4, 2009
All refrigeration and air conditioning engineers working in the UK will be required to hold this certificate by July 2011. However, training resources around the country are limited and industry organisations are urging companies and individuals to obtain F-Gas Regulations Certification sooner rather than later.
Star Learning Solutions and East Kilbride Group Training Association (EKGTA) have partnered to deliver City & Guilds 2079 F-Gas Regulations assessment and certification, known as F-Gas Certification. This collaboration harnesses the experience and reputation of two organisations with a combined experience of 80 years in their specialist fields of expertise.
This unique delivery model for City & Guilds 2079 F-Gas Certification minimises time away from workplace and expenses; allows candidates to take the C&G 2079 theoretical and practical assessments in half a day; and gives candidates the option to choose from any of our 9 UK branches, 18 fully approved assessment rigs and 14 qualified assessors.
The enormous knowledge, experience and resources of the Star Refrigeration network is complemented by the expertise of EKGTA in their capacity as an accredited provider of engineering training to a wide range of national standards and in particular City & Guilds.
This novel solution meets the requirements of the City & Guilds Level 2 award in F-Gas and ODS Regulations (2079) and can help enable contractors and engineers to fulfil the requirements of F-Gas certification. Formal assessment to City & Guilds standards can be carried out at any one of Star's nine branches around the UK;-
Aberdeen - Bristol - Derby - Glasgow - Leeds
London - Manchester - Newcastle - Oxford
Each branch is fully equipped with first class resources, including qualified assessors, fully approved assessment rigs and GOLA test facilities. These assessment centres offer a cost effective local solution compared to traditional alternatives. According to Graham Stuart, MD - Operations of Star Refrigeration, "this initiative addresses two of the largest cost implications arising from the training costs associated with this statutory requirement - a major reduction in "off the job" engineer time while undertaking training and a local solution to the employer for engineer training and assessment"
Good preparation is important. For many engineers, despite a wealth of field experience and previous formal study, the process of certification will require thorough advance preparation, especially in refreshing and updating theoretical knowledge of processes and regulations.
A flexible range of packages are available to suit individual requirements and according to engineer experience.
Gold Package - £425
Online preparation for theory test, City & Guilds theory test and practical assessment.
The one-day City & Guilds theory test and practical assessment can be carried out in any of Star's branch offices offering you a local assessment solution.
Silver Package - £250
City & Guilds theory test and practical assessment
The one-day City & Guilds theory test and practical assessment can be carried out in any of Star's branch offices offering you a local assessment solution.
Bronze Package - £225
Online preparation for the GOLA theory test
Preparation for the GOLA test utilising our online course. Prepare for your own assessment at your own pace and in an environment convenient for you. All you need is an internet connection.
About The Star Refrigeration Group
Star Learning Solutions is the training division of the Star Refrigeration Group, offering both theoretical and practical training for the HVACR sector.
Virtual resources are already available by accessing http://www.elearning-training.com , the industry's pioneering web-based learning tool.
elearning-training.com was launched by Star Refrigeration in October 2006 as a pioneering learning initiative to meet the theoretical training needs of the air-conditioning, refrigeration and building services sector.
This learning portal has rapidly become popular within the industry and is attracting significant international attention from students, educationalists and trade associations.
Winner of the Cooling Industry Award - Training Initiative. All of the courses are recognised for CPD by CIBSE and the Construction CPD Certification Service.
At the moment, its student community numbers more than 5000 members from all around the world.
Learning content includes the world's first interactive course covering CO2 Refrigeration - Used by major retail operators as their standard for contractor training.
The International Institute of Refrigeration and elearning-training.com have recently partnered to equip rac engineers with skills and knowledge to comply with refrigeration-related commitments under the Montreal and Kyoto Protocols.
In partnership with EKGTA is now delivering City & Guilds 2079 - F-Gas Assessment and Certification.
###