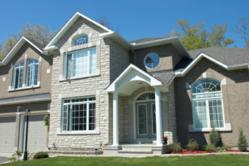 Thanks to attractive FHA incentives, homeownership is becoming a renewed reality for Americans who lost their homes in the turmoil of the recession.
Las Vegas, NV (PRWEB) May 13, 2013
Best Rate Home Loans, a national professional network of approved mortgage lenders and loan providers who specialize in FHA loans and other low down payment options, reports that FHA borrowers who were forced into short sales and foreclosures on homes during the worst of the recession are now coming back strong into the housing market, with FHA loans providing them the opportunity to pay much less on down payments, and more importantly, start making payments on new homes in four years less than most conventional lenders would allow.
CBS News recently reported that about 2.2 million homes were sold nationwide through short sale since the recession began in September of 2008. On top of this number are the 5 million foreclosures that the nation saw during the recession. While short sales and foreclosures can often take a negative toll on a borrower's credit, a national trend has developed in recent months, as the housing market has come booming back, in which borrowers who previously had to give up a home due to a short sale or foreclosure are re-emerging once again as homeowners. And much of this has to do with the increasing number of FHA-eligible borrowers.
CLICK HERE to check FHA loan eligibility.
The reason for this trend, and the rising amount of FHA loan-eligible borrowers that has gone up from less than 300,000 in 2011 to over 800,000 today, boils down to two things: time and economic recovery. When new homeowners were being laid off from their jobs in 2008 and 2009, many held out hope that they could still make costly monthly mortgage payments for an additional year or two longer than they were actually earning any income. So it wasn't until around 2010 and 2011 that many of the 5 million homes that went into foreclosure during the recession were lost to these homeowners.
Where boomerang buying and FHA purchasing come into the equation is in the amount of time since many of these homes were foreclosed upon: three years. That's the minimum duration that the FHA has allotted for responsible borrowers to become eligible again for an FHA loan. And as past mortgagees who have been renting for the last three years and saving up money—maybe after finding that job they were searching for as the economy begins to rebound—begin to see the housing market gain momentum, many of them are using the historically low FHA mortgage rates, as well as down payment rates as low as 3.5 percent, to give homeownership a second shot.
Another large reason why FHA loans are becoming increasingly popular for boomerang buyers is because conventional lenders often will not lend to borrowers for a minimum of seven years after a short sale or foreclosure. And for the conventional lenders who are offering loans in a shorter period of time, they often ask for a down payment of as much as 20 percent. With these stark differences in mind, it's crystal clear why boomerang buyers are hopping on the FHA loan bus.
"Many folks saw their homeowner dreams turned into nightmares as the recession hit and unemployment rates spiked and home values declined," says Brian Maier, Broker/Owner of Raintree Mortgage, a Las Vegas FHA Mortgage Lender. "The trend of boomerang buyers is living proof of the determination of Americans to achieve their homeownership dreams, and those dreams are becoming a reality thanks to the amazing incentives being offered by the FHA."
About FHA loans:
Over 34 million homes have been insured by the FHA since it was created in 1934.
While conventional mortgages typically have difficult underwriting laws, FHA-insured loans appeal to a wider base of homebuyers by incentivizing them with laxer credit standards, lower down payment requirements and more varied income calculations.
FHA loan benefits:
Down payments as low as 3.5 percent
Credit guidelines that appeal to most borrowers
Streamlined refinancing capability
All-in-one home renewal loans
Click Here to check your FHA Loan Eligibility.
Best Rate Home Loans is a national professional network of approved mortgage lenders and loan providers who specialize in FHA loans and other low down payment or streamlined refinance options. Call 888-269-5585 for further information on the Boomerang Home Buyer Program.