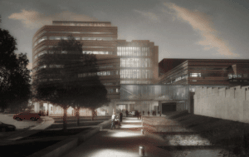 We are delivering on our commitment -- a full service hospital that ensures that the citizens of New Orleans East will receive quality and timely health care in their neighborhood - Mayor Mitch Landrieu
JACKSONVILLE, FL and NEW ORLEANS, LA (PRWEB) January 17, 2013
AMS Health Care Mortgage Corporation provided a $97.6 million FHA insured loan to the Parish Hospital Service District of the Parish of Orleans – District "A" ("HSD"), a political subdivision of the State of Louisiana, will be used to construct a full service state-of-the-art 80 bed hospital offering inpatient and outpatient care. The FHA 242 loan, backed by the full faith and credit of the U.S. Treasury, will provide an exceptionally low fixed interest rate and amortize over a period of 25 years after completion of construction. AMS, HUD, and the entire project team worked diligently to secure HUD's commitment prior to September 30, 2012, thus avoiding a mandated annual insurance premium increase that would have cost the HSD an additional $3.6 million over the life of the loan. The loan was funded with taxable GNMA securities (see article on right) enabling the HSD to take advantage of historically low interest rates. The structure provided by AMS saved the HSD more than $2 million dollars annually compared to traditional non-rated fixed rate bonds.
"This is an important milestone that could not have been achieved without the commitment, collaboration and hard work of the board and local legislators," said Mayor Mitch Landrieu. "We are now one very important step closer to achieving our goal. The strength of the U.S. Government is now behind the financing of the New Orleans East Hospital and we will continue to move forward to bring this full service hospital to the New Orleans East community."
The hospital is expect to be a major catalyst for redevelopment of New Orleans East. In addition to the 80-bed acute care hospital being built by the HSD, Daughters of Charity Services of New Orleans (DCSNO) is constructing a new $6M health care center located on the HSD campus. DCSNO, known in New Orleans for operating Charity Hospital for the poor since 1834 and later Hotel Dieu, has emerged as leader of primary care in New Orleans. Construction of the 32,000 square foot facility is scheduled for completion in the fall 2013. Once completed, the new state-of-the-art health care center will complement the services offered by the hospital by providing primary care, pediatric care, pharmacy services, behavioral health and prenatal care to more than 20,000 individuals in eastern New Orleans annually.
AMS, an FHA approved mortgage lender, specializes in obtaining financing for hospitals and select residential care facilities, and is consistently the leading originating banker for new FHA 242 hospital loans. Collectively, its bankers have more than 80 years of experience with the FHA hospital program, and have completed more than $8.5 billion of FHA healthcare transactions.