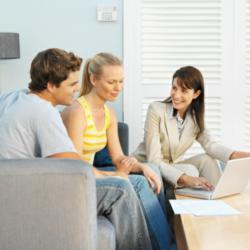 Los Angeles, Ca (PRWEB) February 16, 2013
FHA mortgage requirements determine if a borrower can qualify for a loan through the FHA. Red Blue Realty offers information about how to meet the mortgage requirements that the FHA has set up, and make the loan process go smoothly.
FHA mortgage lenders have two main requirements for approving a borrower to receive an FHA loan.
First: the borrower's ability to repay an FHA loan.
Second: The borrower's willingness to repay an FHA loan.
The ability to repay a loan takes into consideration a borrower's employment status and income. In general terms, to meet FHA mortgage requirements, borrowers should have worked at the same place, or be in business for a minimum of two years if self-employed. It's also considered more desirable for a borrower to remain in the same line of work, rather than changing job markets.
Willingness to repay a loan is usually assessed by the use of the property. If a borrower is living in a home versus renting it, and if the borrowers credit report is clean, FHA mortgage requirements are more likely to be met. Previous rental and mortgage payments are also considered.
There are no set requirements for obtaining an FHA mortgage. Every borrower is assessed as an individual. However, lenders order the borrower's credit report, a property appraisal, and title report. The lender also verifies bank statements and deposits, and will want to address any credit issues that appear on a credit report such as late pays, collections, or past bankruptcies or foreclosures that appear.
To meet FHA mortgage requirements, there are also other records that lenders must obtain.
These include pay stubs or W-2's, tax returns for self-employed borrowers, and bank statements.
Red Blue Realty believes the process will go more smoothly and quickly if a borrower obtains a copy of his or her credit report. Having access to this information means that borrowers can handle any credit issues that could turn up on the report. Borrowers can also work to improve their credit, and not apply for too many credit cards, keep credit balances low, and pay all bills on time. Another way to improve credit is by closing any zero balance accounts. Having extra credit cards even without a balance can affect credit adversely.
Note that from the standpoint of meeting FHA requirements, a borrower with a credit score of 680 or above is an A+ borrower; and will find loans approved quickly at the lowest available interest rate.
A score below 680 and above 620 may require closer examination. While a value of 'A' may still be assigned, the loan may take longer to close. Borrowers with credit scores below 620 may not receive the best rate and terms available.
Finally, in order to fulfill FHA mortgage requirements, a borrower must provide a property appraisal. This defines property worth based on the property itself and similar properties within a given neighborhood. Income valuation can be used to appraise rental properties.
Website: Los Angeles Real Estate
Email: Contact(at)redbluerealty(dot)com
Phone Number: 1-(855) 66-RBREALTY or 1-(855) 667-2732