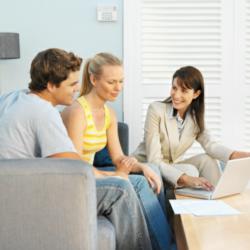 Los Angeles, CA (PRWEB) February 22, 2013
FHA mortgage requirements will be changing in the coming year. FHA's reasonable loan process will still meet the needs of many borrowers to receive home financing. However, these new requirements should be considered by potential buyers prior to applying for an FHA loan.
The FHA will be increasing underwriting criteria for borrowers whose are on the low end, between 580 and 620. This criteria includes establishment of a maximum debt-to-income ratio of no more than forty-three percent for automated underwriting by the FHA. FHA mortgage requirements for borrowers who exceed forty-three percent will be processed by hand, allowing lenders to include factors that may compensate for borrowers including larger down payments or a larger level of cash reserves.
Another change in FHA mortgage requirements: increasing a borrower's down payment requirement and insurance prices for loans ranging between $625,000 and $729,000. This change will help protect the FHA against losses on high balance loans outside Fannie Mae and Freddie Mac conforming loan limits. It also rolls back the government's role in housing loans. The FHA will raise it's minimum down payment on these loans from 3.5 to 5 percent. FHA has been pricing mortgage insurance premiums in this price range at 150 basis points, a new increase will raise it to 155 basis points.
Also, borrowers with a foreclosure on their borrowing record must have good credit since the discharge and meet underwriting criteria, including FHA investigating whether a foreclosure was due to a one-time incident caused by something like job loss or illness, or whether poor creditworthiness was the cause.
Red Blue Realty's experienced professionals can help borrowers with these changes and in following the necessary steps to meet FHA mortgage requirements. Bearing these changes in mind, the basic steps still include borrower requirements of employment, credit, and property appraisal records.
The FHA needs to see that a borrower has a minimum of two years employment, and preferably see that work is through the same employer. If self-employed, the FHA prefers the borrower be in the same line of work for the past two years. In both cases, the applicant's income should remain steady or increase. Documentation backing up income and employment is also necessary, including pay stubs, W-2's, tax returns, and 1099's. If self-employed, along with tax returns, a borrower must provide year to date P and L statements.
Borrowers who meet these basics will reach FHA mortgage requirements as revised. If a borrower is uncertain about his or her credit ranking, the borrower should take advantage of a free on-line credit score to review standing. A Red Blue Realty loan associate will be able to assist you with determining your credit score and helping you meet the requirements that are necessary to complete acquire said mortgage.
FHA lenders require bank statements, recent housing payments, bill statements, and copies of any discharge papers from a foreclosure or bankruptcy in order to process a loan. Should a borrower be a co-signer on a loan, he or she must also provide copies of both the front and back of checks to prove that the borrower isn't responsible for the loan payments.
Changes are indeed afoot for FHA mortgage requirements, but the FHA remains a key source of relatively simple to obtain financing for those seeking a real estate loan.
Website: http://www.redbluerealty.com
Email: Contact(at)redbluerealty(dot)com
Phone Number: 1-(855) 66-RBREALTY or 1-(855) 667-2732