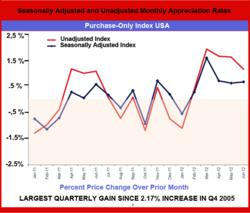 "Although some housing markets are still facing significant challenges, house prices were quite strong in most areas in the second quarter." ~ FHFA Principal Economist Andrew Leventis.
Eden Prairie, Minnesota (PRWEB) August 23, 2012
U.S. house prices rose 1.8 percent from the first quarter to the second quarter of 2012 according to the Federal Housing Finance Agency's (FHFA) seasonally adjusted purchase-only house price index (HPI). The HPI is calculated using home sales price information from Fannie Mae and Freddie Mac mortgages. Seasonally adjusted house prices rose 3.0 percent from the second quarter of 2011 to the second quarter of 2012. FHFA's seasonally adjusted monthly index for June was up 0.7 percent from May.
Home Destination's owner, Jenna Thuening, figures "that is near 400,000 home mortgage borrowers. That should put the home prices up tick at the largest quarterly gain since a 2.17% increase in Q4 2005".
The housing market HPI data points to the following significant findings:

Seasonally adjusted house prices rose 3.0 percent from the second quarter of 2011 to the second quarter of 2012.
Of the nine census divisions, the Mountain division experienced the strongest prices in the latest quarter, posting a 4.2 percent price increase.
Prices were weakest in the New England division, where prices were flat over the quarter.
The seasonally adjusted purchase-only HPI rose in the second quarter in 43 of the 50 states.
FHFA indicates home prices are up due to by record-low mortgage rates, tight inventory and and a modest supply of homes available for sale.
To round out the picture, Zillow® Negative Equity Report announced that, "Negative equity declined in the second quarter, with 30.9 percent of U.S. homeowners with mortgages – or 15.3 million – underwater, according to the second quarter . That was down from 31.4 percent of homeowners with mortgages, or 15.7 million, underwater in the first quarter. The total amount of negative equity in the country declined by $42 billion in the second quarter to $1.15 trillion".
"Purchases of previously owned homes climbed 2.3 percent to a 4.47 million annual rate in July, up from an eight-month low, the National Association of Realtors," said yesterday.
In the midst of the good news about house prices, Jenna is concerned that too many homes are still underwater and slow the housing recovery. "Underwater homeowners have a higher foreclosure rate and a harder time relocating, because they would lose money in a sale, Humphries said. The problem is greatest among borrowers under age 40, about 48 percent of whom owe more than their homes are worth. That's slowing the housing recovery by shrinking the inventory for first-time buyers and reducing demand for move-up homes", Humphries said.
Homeowners and buyers in the Minneapolis and St Paul area may contact Home Destination at 612-396-7832 to engage Jenna Thuening's professional services.