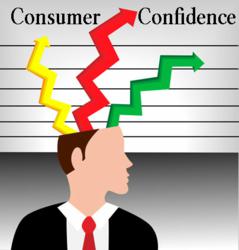 The very positive economic expectations of consumers stand in sharp contrast to growing concerns expressed by investors and companies about the impending fiscal cliff as well as the impact of a slowing global economy. ~ Richard Curtin
Minneapolis, Minnesota (PRWEB) November 29, 2012
It is a winning combination when both home prices and consumer confidence are up. FHFA says home prices up for 8 months in a row. Thomson Reuters research says consumer confidence is up 17.6 %, The Conference Board puts consumer confidence up at four and a half year record highs. The Census Bureau and HUD report home prices are up 8% over October a year ago. In sum, it is well worth stopping and savoring the moment.
Says Butch Sprenger, owner of Destiny Homes: "consumer confidence is closely observed because consumer spending drives approximately 70% of economic activity. We are seeing record highs coming in from multiple trusted sources of data and opinion, the opinion component is perhaps due in part to trusting election promises."
1 - According to FHFA's housing market report, the seasonally adjusted purchase-only index for the United States has increased for 8 consecutive months. Seasonally adjusted house prices rose 4.0 percent from the third quarter of 2011 to the third quarter of 2012, a significant increase from a year ago.
FHFA Principal Economist Andrew Leventis says,"With significant growth in home prices during the quarter and a modest inventory of homes available for sale, house price movements in the third quarter were similar to what we observed in the spring.The past year has seen consistent price increases."
2 - The Conference Board November studies of the housing market show a stronger than anticipated increase in the number of consumers who believe the housing recovery is looking up. We are seeing a marvelous third consecutive monthly increase in the Conference Board's measure of consumer confidence. The Consumer Confidence Index increased to its highest level in more than four and a half years, from 76.4 in Feb. 2008.
Lynn Franco, Director of Economic Indicators at The Conference Board explained why: "This month's moderate improvement was the result of an uptick in expectations, while consumers' assessment of present-day conditions continues to hold steady. Over the past few months, consumers have grown increasingly more upbeat about the current and expected state of the job market, and this turnaround in sentiment is helping to boost confidence."
While the data from the Conference Board illustrates a sustained improvement in consumer confidence, growth has slowed. Prior to the 0.6 point increase in the Conference Board's Consumer Confidence Index that was recorded in November, the Index rose by 4.7 points between September and October, 2.3 points lower than the 7.1 point increase between August and September.
3 - Key findings in the Thomson Reuters / University of Michigan Surveys of Consumers are:

The Sentiment Index was 82.6 in the October 2012 survey, up from 78.3 in September and 74.3 in August, and well above last October's 60.8.
The largest gains were in the Expectation Index, which improved by 7.5% from a month ago and by 52.8% from the debt ceiling debate a year ago.
In contrast, the Current Conditions Index was 88.1 in October, up from 85.7 in September but just below August's 88.7.
Current conditions were judged to be 17.6% better than last year.
The good news could be a pendulum swing. While the outpouring of consumer confidence is certain to boost Christmas spending and good cheer, the hanging fiscal cliff could dash consumer optimism. If it is not resolved shortly and mortgage tax breaks left in place, the historical dollars saved at tax time will be missing in homeowner's pockets. Perhaps the real confidence is in hopes that our politicians will not allow this to happen and housing gains will continue," comments Sprenger.
Home Builders have lead the increase in confidence and put in long hours in 2012 to sustain and pass good reason for that confidence on to consumers. Minneapolis and St Paul area residents ready to enjoy a newly constructed home, or major home renovation, may call Destiny Homes at 952-934-5706 for scheduling.