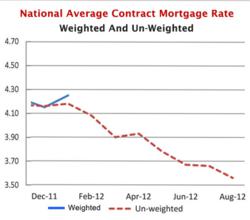 Single family housing starts are well ahead of last year's pace, existing home sales are up, the inventory of homes for sale is down. All in all, we are more optimistic about housing.
~ Blitzer
Minneapolis, Minnesota (PRWEB) September 27, 2012
The Federal Housing Finance Agency (FHFA) today reported that the National Average Contract Mortgage Rate for the Purchase of Previously Occupied Homes by Combined Lenders, used as an index in some adjustable-rate mortgage (ARM) contracts, was 3.56 percent based on loans closed in August. That constitutes a decrease of 0.10 percent from the previous month. In March of 2012, FHFA began calculating interest rates using un-weighted survey data. Interest rates are at all time lows spurring residential construction.
The average interest rate on conventional, 30-year, fixed-rate mortgage loans of $417,000 or less decreased 10 basis points to 3.74 in August. Rates are calculated from the FHFA's Monthly Interest Rate Survey of purchase-money mortgages.
Additionally, the National Association of Realtors (NAR) reported yesterday, "The news on home prices in this report confirm recent good news about housing," David M. Blitzer, chairman of the index committee at S&P Dow Jones Indices, told The Wall Street Journal. "Single family housing starts are well ahead of last year's pace, existing home sales are up, the inventory of homes for sale is down and foreclosure activity is slowing. All in all, we are more optimistic about housing."
Destiny Homes finds that people still hold on to the American dream of owning their own home, and a beautiful one. With mortgage rates historically low, many homeowners are deciding it is the right time to build a luxury home or take on a major home renovation project.
Highlights of FHFA Mortgage Rate Report are:

The effective interest rate, which reflects the amortization of initial fees and charges, was 3.69 percent in August, down 9 basis points from 3.78 percent in July.
Initial fees and charges were 1.07 percent of the loan balance in August, up 12 basis points from July.
Eight percent of the purchase-money mortgage loans originated in August were "no-point" mortgages, down 12 percent from the share in July.
The average term was 27.5 years in August, unchanged from July.
The average loan-to-price ratio in August was 75.8 percent, down 0.3 percent from 76.1 percent in July.
The average loan amount was $256,900 in August, down $2,000 from $258,900 in July.
New construction building permits, which can be an indicator of future building activity, edged down by a slight one percent to a rate of 803,000 units in August following an outstanding surge in the previous month. Residential construction of single-family permits remained virtually unchanged at 512,000 units and multifamily permits down 3.0 percent to 291,000 units.
"Margins on sales of mortgages have widened by about 50 percent since the Fed's announcement from the average level this year, which already was elevated," said Kevin Barker, an analyst at Compass Point Research & Trading LLC in Washington. One of Compass Point focuses is the residential construction / housing sector and seeks to help builders and real estate industry professionals benefit from anticipated changes in the industry.
Contact Destiny Homes for a new construction build in the Minneapolis area. For today's home buyers of new construction, shrinking supply amid rising demand, higher home prices, and lower mortgage rates mean that home buyers should consider moving up their build time frame. Call 952-934-5706.