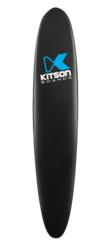 Customers looking for a financing option for your board, are recommend to use PayPal's Bill Me Later service. On purchases over $99 you can make no payments and pay no interest if you pay in full within six months
Olympia, Wash. (PRWEB) January 09, 2013
Paddle Boarding and Surfboarding are great tools for weight maintenance for those who enjoy it, however the upfront investment can be reason why many people have been hesitant to partake in the sport.
Kitson Boards has decided to offer financing on all paddle boards and surfboards for clients interested in trying out the activity.
Customers looking for a financing option for your board, are recommend to use PayPal's Bill Me Later service. On purchases over $99 paddle board customers can make no payments and pay no interest if you pay in full within six months.
"We want to ensure our carbon fiber paddle boards and surfboards are as affordable as possible," said AmazingUniverse.com, Inc President, Michael Kitson, which is the parent company of both Kitson Boards, LLC and the wine rack and wine cellar manufacture Wine Rack Store.com
Founded by Michael and Denise Kitson, Kitson Boards, LLC headquarters is located in Olympia, WA. Kitson Boards are all crafted out of the ultra durable and long lasting carbon fiber material. All production of surfboards, paddle boards and wakesurf boards, as well as the people behind the brand are based in North America and is the only board producer to do so. Kitson Boards prides itself on outstanding customer service and only the finest in recreational boarding and accessories. Free shipping is available throughout the continental USA.