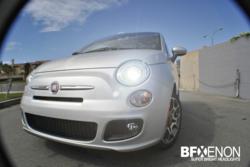 BFxenon's Fiat 500 USA HID lights play a crucial role in the overall safety of the driver
Anaheim, CA (PRWEB) May 27, 2011
NEW PRODUCT RELEASE: BFxenon is proud to announce the release of our new product; HID Xenon Headlights for the NEW Fiat 500 USA. BFxenon's HID lighting systems assist the driver tremendously in providing an expanded view of what is ahead. Essentially these Xenon Lights enhance your overall view by providing you to see an extended and lengthened stretch of the road. BFxenon HID lights play a crucial role in the overall safety of the driver by enabling you to identify dangerous obstacles effortlessly and more rapidly. The HID life expectancy is up to 10 times longer than the factory halogen bulbs and shines 3x brighter.
Side note: most customers have a common misconception that the higher the K (Kelvin temperature) the brighter it gets, but in fact, it is the opposite. The K rating is directly related to the color of the light discharged by the HID bulb. The more color saturation in the light, the less projection you will achieve. It is proven that BFxenon's brightest HID temperatures are 6000K (pure white) and 8000K (mostly white with a light hue of blue). Also Xenon HID operates at a cooler temperature than your traditional halogen headlights, therefore these lights will not melt your housing.
The overall efficiency and style of adding HID Xenon headlights to your Fiat 500 USA is increased by 3x over stock displacement.
Stay Connected:
World's First Fiat 500 USA HID Conversion
BFxenon Facebook Page
BFxenon on Twitter
TheAutoMod Social Network - BFxenon
###