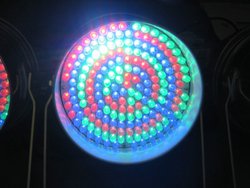 East Amherst, NY (PRWEB) March 20, 2009
Tri North Lighting, Inc. announced today it will join the Emmy Award winning television show ABC's Extreme Makeover Home Edition and the Estridge Companies to help a deserving family in building a new home in Indianapolis, Indiana. On Friday March 27th the Extreme Makeover Home Edition bus will pull up to a house and Ty Pennington and his team of designers will surprise a family with a new home. Shortly after the family departs from the location, the construction of a new home will begin as ABC's Extreme Makeover Home Edition team directs an army of contractors to begin the build. This episode will be the two-hour season finale and it is tentatively scheduled to air on ABC on Sunday, May 17th.
CEO Jeffrey Beach stated "I have personally been a very large fan of the Extreme Makeover Home Edition television show since their first season. I have always dreamed that some day that our company would take a part in helping a family on this great television show. Last week when I received a telephone call from the Design Team from the show, my dream of helping came true. I am personally very honored to work with ABC's Extreme Makeover Home Edition design team and to assist the Estridge Companies in giving a well deserving family a new home that they can enjoy for many years to come."
While Tri North Lighting, Inc. supplies many different types of lighting products that are energy efficient to a vast customer base, we consider this a privilege and we would like to thank ABC's Extreme Make Over Home Edition for this opportunity to help in building a new home for the family. Tri North Lighting, Inc. will be donating all the materials for their project and will take a team of 5 volunteers who are donating their time and skills to Indiana to assist in project. Tri North Lighting, Inc. would also like to invite as many of our own customers and manufacturers we work with to get involved as well. The Estridge Company has set up a complete website at Estridge Extreme Dream where volunteer information and donations for the project can be made. You can also learn more about the family, the sponsors and even track the progress of the build as it happens directly on their website.
Tri North Lighting, Inc. was founded in December of 2004 under the direction of CEO Jeffrey Beach and has been part of many projects across the world in incorporating energy efficient led lights and fiber optic lights and rope light products. The company is fully fledged C-Corporation incorporated in the State of Delaware and has locations in New York and Texas. For more information please visit our website at Tri North Lighting, Inc. for details. ABC's Extreme home makeover is a hit television show that has been broadcasted on ABC and season 6 has a theme of "Heroes" For more information on the television show you can go the ABC's website. The Estridge Companies was founded in 1967 and they specialize in home building and their headquarters is located in Carmel, Indiana.
Extreme Makeover: Home Edition, which has won back-to-back Emmy Awards as Best Reality Program (non-competitive), is in its 6th season on ABC. The program is produced by Endemol USA, a division of Endemol Holding. Anthony Dominici is the executive producer; and David Goldberg is the president of Endemol USA.
###