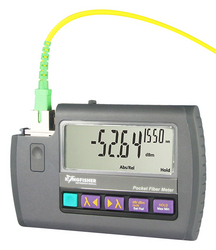 Melbourne, Australia (PRWEB) August 19, 2009
Kingfisher International has introduced a range of shirt-pocket fiber optic testers. The range of optical light sources and power meters are proving to be popular with technicians and installers requiring accurate, rugged and affordable test gear.
The simple, pocket-sized instruments can be securely clipped into a shirt pocket. The instruments are highly ruggedized, moisture and drop resistant, have a long battery life, a sunlight-readable display, and come with a Kingfisher's three year global warranty and calibration cycle.
The KI 9600 Pocket Optical Power Meter is targeted at the majority of basic testing needs. With a patented interchangeable connector system, multi-wavelength referencing, multi-fiber ID tone detection, 0.01 db display resolution and display hold, the unit represents a uniquely versatile offering within the market sector. Unlike other products at this price-point, each instrument comes with a genuine 2% traceable calibration & certification at 9 wavelengths.
Kingfisher's new general use InGaAs detectors suit all 600 - 1650 nm applications with a fiber core diameter up to 200 microns. A multitude of alternate detectors are available for other applications, including: high power detectors, large area detectors, a wavelength selective detector (for PON use), Si and Ge detectors.
The KI 9800 Pocket Fiber Source is aimed at testing single mode, multimode or POF systems. With Kingfisher's interchangeable connector system, 1-3 wavelengths, multi-fiber ID tone generation, and connector repeatability under 0.1 dB, the KI 9800 source is unmatched by competitors in terms of both accuracy and versatility.
Like the KI 9600 Pocket Optical Power Meter, the KI 9800 provides a wide variety of optical options, making the instrument suitable for a variety of applications including single-mode/multimode (LED & Laser), fault-finding, continuity, and POF testing.
The KI 9000 Pocket Tester Series provides a new baseline level of access to Kingfisher's significant long-term research and development efforts in the handheld fiber tester market. Kingfisher products have traditionally been geared towards producing better ROI for more demanding users. Features of Kingfisher's product range include: Automated/high-volume testing & certification, USB connectivity & charging, advanced reporting, zero-warm up light sources, alkaline battery life up to 1200 hours, and multiple-wavelength two-way testers. Further information on the full product range is available Kingfisher's website: http://www.kingfisher.com.au
About Kingfisher International:
Established in 1986, Kingfisher International is a global manufacturer & supplier of equipment for fiber optic communication systems based in Melbourne, Australia.
Kingfisher has a NATA traceable optical calibration laboratory and an R&D team at its head office. It also has a global distributor network, with offices in the UK, USA and Middle East.
Kingfisher fiber optic test equipment is used by technical and non-technical staff in all phases of fiber optic manufacture, installation and maintainance. Typical applications are to verify, test, certify and repair fiber optic systems in telecom, datacom, defense and automotive applications.
For high resolution images please visit
http://www.kingfisher.com.au/Marketing/PressPictures.htm
Kingfisher International P/L
30 Rocco Drive, Scoresby, Vic 3179, Australia
W: http://www.kingfisher.com.au, E: sales (at) kingfisher.com.au
T: +613 9757 4100, F: +613 9757 4193
For further information please contact:
Mr Greg Candy, Sales Mgr
+61 3 9757 4100 - greg (at) kingfisher.com.au
For order enquiries please contact your local distributor using our website http://www.kingfisher.com.au.
###