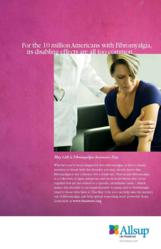 Belleville, Ill. (PRWEB) May 03, 2011
The National Fibromyalgia and Chronic Pain Association (NFMCPA) is encouraging fibromyalgia patients and supporters nationwide to walk a combined 5,408 miles by May 12 to raise awareness about Chronic Pain Syndrome. Allsup, a nationwide Social Security Disability Insurance (SSDI) representation firm, is supporting Fibromyalgia Awareness Day by distributing free posters to healthcare providers and community organizations.
The Fibromyalgia Awareness Day 2011 theme is Walk to CURE FM (Campaign for Understanding, Research & Education of Fibromyalgia). It is a giant step toward highlighting the challenges individuals with fibromyalgia face and the need for research to find a cure. It is also an opportunity for everyone in the fibromyalgia community to rally together and make their voices heard.
"Fibromyalgia is a unique illness that has overlapping conditions and chronic pain," said NFMCPA president Jan Chambers. "People with FM know this, and my heart's desire is to provide a place for education, advocacy, science, leadership, camaraderie and healing to co-exist."
Even if you don't log the miles on a pedometer, you can still take steps to increase your knowledge of fibromyalgia with the following facts from NFMCPA:

Fibromyalgia is a central nervous system illness and is also referred to as a syndrome rather than a disease. Unlike a disease, which is a medical condition with a specific cause or causes and recognizable signs and symptoms, a syndrome is a collection of signs, symptoms, and medical problems that tend to occur together but are not related to a specific, identifiable cause.
The disorder affects an estimated 10 million people in the U.S.
While 75 to 90 percent of the people who have FM are women, it occurs also in men and children of all ethnic groups.
Fibromyalgia is characterized by chronic widespread pain, multiple tender points, abnormal pain processing, sleep disturbances, fatigue and often psychological distress. For those with severe symptoms, fibromyalgia can be extremely debilitating and interfere with basic daily activities.
There is no known cure for FM -- treatment focuses on relieving symptoms and improving function.
Fibromyalgia and SSDI
One of the challenges individuals with fibromyalgia often face is not being able to continue working due to their symptoms and common overlapping conditions, such as depression, chronic fatigue syndrome and anxiety disorders. The SSDI application process can be intimidating, especially for individuals who have a condition, such as fibromyalgia, that has no medical listing within the Social Security Administration's SSDI guidelines.
"Medical listings come in at step three in the five-step sequential evaluation process," explained Allsup senior claims representative Ed Swierczek. "At this level of consideration, to establish fibromyalgia as a medically determinable severe impairment, it must meet certain criteria."
According to SSA, that criteria includes:
Evidence of widespread pain present for at least three months.
Pain present on palpation in at least 11 of the 18 tender point sites as identified by the American College of Rheumatology and the Centers for Disease Control.
Evidence of morning stiffness and/or stiffness after sitting for a short period of time.
Fatigue is present.
"Since there are no definitive laboratory tests for fibromyalgia, it is primarily a diagnosis by exclusion," explained Swierczek. He added that in his more than 37 years of working for and with SSA, he has seen a significant increase in awareness and understanding of fibromyalgia among the medical community and disability adjudicators.
"However, it is still vital that patients let their doctors know about their symptoms at every visit," said Swierczek. "Let them now if you are having muscle pain, let them know if you are not getting restful sleep. Encourage your doctor to include in his or her physical examination the requisite tender point examination if you have not received one. This is important because adjudicators want to see some evidence of clinical findings to help establish a diagnosis. Having the appropriate tender points adds further credence to the presence of FMS."
For more information on Fibromyalgia Awareness Day activities, log on to fmcpaware.org. For more information about fibromyalgia and SSDI you can download the brochure, "Social Security Disability for Fibromyalgia." To download or request Fibromyalgia Awareness Day posters, go to AllsupCares.com.
ABOUT THE NATIONAL FIBROMYALGIA AND CHRONIC PAIN ASSOCIATION
The mission of the National Fibromyalgia & Chronic Pain Association is to build a united patient and medical community to create a strong voice and organizational base to educate and execute advocacy programs regarding access to care, scientific research, diagnosis and treatment for people suffering with chronic pain from fibromyalgia and overlapping conditions. For more information, visit fmcpaware.org.
ABOUT ALLSUP
Allsup is a nationwide provider of Social Security disability, Medicare plan selection and disability life planning services. Founded in 1984, Allsup employs nearly 800 professionals who deliver specialized services supporting people with disabilities and seniors so they may lead lives that are as financially secure and as healthy as possible. The company is based in Belleville, Ill., near St. Louis. For more information, visit Allsup.com.
Contact
Jan Chambers
NFMCPA
jan(at)nufibroconn(dot)org
(435) 753-4148
http://www.fmcpaware.org
Tai Venuti
Allsup
t(dot)venuti(at)allsupinc(dot)com
(800) 854-1418 ext. 68573
http://www.allsupalliances.com
###