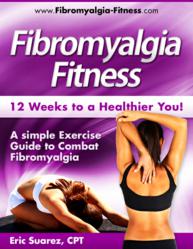 The first step to any exercise program is being optimistic about your results. If you suffer from fibromyalgia you can absolutely live happy and healthy.
New York, New York (PRWEB) January 25, 2012
Fibromyalgia affects over 5 million women in the United States alone; another 7-10 million in Europe. It is described as a syndrome which causes great pain and chronic fatigue to those who suffer from it. 90 percent of those suffering from its painful trigger points are women.
With the release of his new eBook, 12 Weeks to A Healthier You! , author and certified fitness trainer, Eric Suarez is optomistic about bringing exercise and diet information to those who need it most.
"We are at a point now where there is no longer any doubt. Sufferers of this syndrome should absolutely be involved in some form of physical activity to relieve their symptoms," said Suarez.
It was not long ago that many medical professionals prescribed total rest for sufferers. Suarez says this did two things, "too much rest resulted in muscle atrophy and created a sense of helplessness. These women need to be inspired and given the opportunity to get healthy."
In 2008 Suarez, who owns a personal training business in New York, began to see a large influx of women who were suffering from this syndrome looking for help. "In our initial interview, I would ask if they suffererd from any illnesses. The word fibromyalgia kept coming up time and again. These were all women who appeared to be healthy on the outside and yet they were suffering from a lot of pain."
Suarez learned very quickly that although they appeared to be healthy, sufferrs had unique requirements when it came to exercise. "Training women who suffer from pain and fatigue has actually made my fitness training much better. There is much more emphasis placed on functional movements and improving range of motion."
In 2010 he founded Fibromyalgia-Fitness.com, a free informational website dedicated to inspiring millions of sufferers to exercise. "In our first 6 months, I received hundreds of emails a week from women all over the globe asking for exercise and diet advice for their symptoms. It was only natural to write a Book describing what was working for my clients."
Just in time for the New Year, Suarez released the eBook 12 Weeks to A Healthier You! The eBook which can be instantly uploaded to one's computer or kindle, contains over 12 weeks of illustrated exercises for fibromyalgia and a meal by meal menu guide.
"I am really excited about this eBook. It has been a great experience for me; I owe it all to my clients. These women really taught me that exercise can and should be used to heal. It's about health and living life optimistically."
About Eric Suarez, CPT.
Eric Suarez grew up in New Jersey and obtained a Bachelor's degree in Sociology and a minor in sports medicine. After launching a successful personal training career in New York, he was stricken with the autoimmune disease, ulcerative colitis. Seeking relief and not wanting to depend on medication, he soon realized our bodies need exercise, especially when we are at our weakest. If you would like more information you can contact him @Fibro_Fitness on Twitter.
###