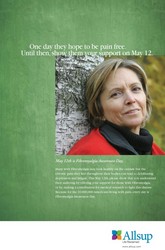 Belleville, Ill. (Vocus) May 3, 2010
The National Fibromyalgia Association (NFA) is encouraging organizations worldwide to make fibromyalgia visible by increasing awareness and understanding during Fibromyalgia Awareness Day on May 12. Allsup, a nationwide provider of Social Security disability representation and Medicare services is offering free posters to support the observance and provide information on the syndrome that affects an estimated five million Americans.¹
Fibromyalgia is characterized by chronic widespread pain, multiple tender points, abnormal pain processing (reacting strongly to things that other people would not find painful), sleep disturbances, fatigue and often psychological distress. For those with severe symptoms, fibromyalgia can be extremely debilitating and interfere with basic daily activities.
Research shows that people with fibromyalgia typically see as many as five doctors during a span of three years before receiving a diagnosis. The American College of Rheumatology has established a concise way for knowledgeable healthcare professionals (HCPs) to recognize and diagnose the disorder. It consists of a physical examination of 18 points at specific locations on the body. Eleven of those points must be tender upon palpation (manual examination). In addition, the patient must have a medical history of chronic body-wide pain in all four quadrants of the body lasting longer than three months. A rheumatologist is generally the most experienced HCP in making a fibromyalgia diagnosis.
Fibromyalgia and Social Security Disability Insurance
The Social Security Administration does not have a medical listing for fibromyalgia. To establish fibromyalgia as a medically determinable severe impairment it must meet the American College of Rheumatology criteria above, and there must be evidence of morning stiffness and/or stiffness after sitting for a short period of time and fatigue is to be present.
The NFA recommends keeping a journal to track pain throughout the day to discover patterns or certain activities that may exacerbate pain. Keeping a diary will also provide useful documentation for the SSDI application process.
Allsup works with hundreds of individuals with fibromyalgia each year and appreciates the challenges they face in dealing with an often misunderstood and misdiagnosed condition. Fibromyalgia is often referred to as "invisible" because you can't see pain. People sometimes have a difficult time believing a person with a healthy appearance and positive outlook can be experiencing profound symptoms and limitations.
To help make Fibromyalgia visible, order and display free Fibromyalgia Day posters, available online at AllsupCares.com or by calling Karen Hercules-Doerr at (800) 854-1418, ext. 5770.
ABOUT ALLSUP
Allsup is a nationwide provider of Social Security disability, Medicare and workers' compensation services for individuals, employers and insurance carriers. Founded in 1984, Allsup employs more than 600 professionals who deliver specialized services supporting people with disabilities and seniors so they may lead lives that are as financially secure and as healthy as possible. The company is based in Belleville, Ill., near St. Louis. For more information, visit Allsup.com.
Contact:
Karen Hercules-Doerr
Allsup
(800) 854-1418 ext 5770
K(dot)Hercules-Doerr(at)Allsupinc(dot)com
Corin Ramos
National Fibromyalgia Association
(714) 970-2268
corin(at)walsonpr(dot)com
¹ Questions and Answers about Fibromyalgia, National Institute of Arthritis and Musculoskeletal and Skin Diseases, April 2009. http://www.niams.nih.gov/health_info/fibromyalgia/default.asp#b
###